Bosch drip coffee maker
TKA models
CompactClass Extra
ComfortLine
Reviews
Bosch has its roots deep in history and has more than a hundred years of experience with smart appliances. It began its formation at the end of the 19th century in Stuttgart, Germany. Today it is a world famous brand that produces a wide range of diverse household appliances for life. In the line of the device are presented including coffee makers. You can easily choose to your taste drip or capsular.
The Bosch drip-type coffee maker allows you to make an aromatic drink right at home. No need to go anywhere and overpay for services in the cafe, because everyone can feel like a barista. As a result, you can enjoy excellent filtered coffee thanks to the modern household appliances from Bosch.
TKA models
Using Bosch coffee machines is very easy, even a child can handle it. In this case, the result is always a magic drink. TKA models are presented in the CompactClass Extra and ComfortLine series. You can choose the color and design to suit your taste preferences. The power of the heater is 1100 watts, there is also a special function Aroma + button - all this allows you to create a hot drink with a rich tart and rich taste.
This model range is equipped with SafeStorage technology. This is a very useful development. It allows you to securely store the glass teapot and be sure that it is safe and will not break. There is also a reliable anti-drip system that will not allow the heating element to get dirty even if you get the jug at the time of preparation. All removable parts can be easily removed and cleaned.
CompactClass Extra
In the CompactClass Extra line from Bosch, two models of drip coffee makers are presented: red - TKA3A034 and white - TKA3A031. The filter in these models uses a paper one-time. It is very convenient, because you do not need to clean it every time. Capacity for ground coffee turns and moves forward therefore it is not difficult to place the filter there and to pour ingredients. It also helps in the care of the device, facilitates the cleaning procedure.
This smart technology is able to automatically switch to an energy-saving level of work, which will save light consumption. This model takes up very little space in the kitchen due to its size. Plus it is equipped with special compartments for compact storage of a cord with a plug. The glass jug has a convenient measuring scale, and it can also be placed with the handle inside the coffee maker. This provides additional security, eliminates the possibility of accidentally hitting the kettle, breaking it and pouring a hot drink.
Invigorating coffee, this machine is able to cook in minutes, as it is equipped with a powerful heating element. But it does not consume a lot of electricity, as there is an auto-off function if the device is inactive. This technique is able to boil 1.25 liters of flavored drink at once. There is a heated kettle, so that the coffee does not have time to cool down before you want it. The mechanical control type is additionally equipped with a button illumination. And all this costs around two thousand rubles.
ComfortLine
Start the morning will help coffee makers from the company Bosch ComfortLine devices. They are presented in three colors: black and white car TKA6A041; red-gray TKA6A044; black TKA6A043. This stylish technique will complement the interior of any kitchen and successfully fit into the design of the room.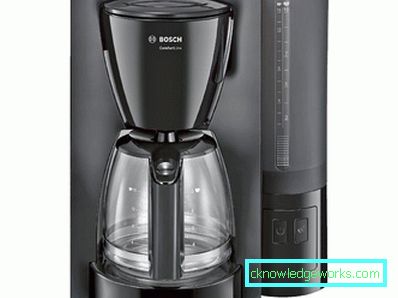 Coffee lovers will especially appreciate the function Aroma + button, which allows you to prepare a drink with a pronounced and rich aroma. The body of the machine is made of plastic and metal. There is a water container, it is built. This allows you to quickly and easily fill it. As well as in other models from Bosch, there is an auto power off function, which is responsible for security and works after two hours; and also anti-drip system.
A distinctive feature and a clear advantage of TKA models from the ComfortLine series is the ability to remove scale. This prolongs the life of the device and allows you to use it much longer. To facilitate the cleaning process allows a large hole for pouring water. The use of disposable paper filters of 1x4 is provided in the coffee tank.
A liter and a quarter of an invigorating hot drink are placed in a glass teapot at a time. The quantity is informed by the measuring scale both on the jug and on the water tank. There is an opportunity to independently vary the strength of coffee and make various options, experiment, try something new. Management in the models of the ComfortLine range is provided mechanically. The weight of the coffee maker does not exceed two kilograms, and the price varies within 6-7 thousand rubles.
Reviews
Drip coffee makers from the CompactClass Extra series attract buyers primarily price, as it is very democratic. The device is easy and convenient to use. It does not require much time for cleaning and maintenance. The filter is used disposable, so do not have to clean it from the coffee grounds. In model reviews TKA3A034 and TKA3A031 called real workhorses.
In such a device is obtained beautiful American. As they write in the reviews, the strength of the drink can be easily varied using the amount of poured water and poured ground coffee, as well as the degree of its grinding. This is a great choice for lovers of drinking classic American non-stop and in large quantities. For those who are especially forgetful, the automatic shutdown function after two hours of continuous work will be the real salvation.
About models from the line ComfortLine write, that they are fully worth the money spent and justify the cost. Removable parts convenient to wash. The coffee maker of this series in the kitchen becomes a reliable assistant in the difficult morning trying to wake up. An invigorating drink at a time the machine prepares for a large family. Fortress can be adjusted using a special additional button.
More on drip coffee maker - in the next video.