Blender Manufacturers Overview
Kinds
Power
Speed ​​adjustment
Materials and characteristics of the main elements of the device
Additional features
Features of models and reviews about firms
Saving time is the main task of the modern hostess. Mixers, blenders, multicookers, coffee machines are designed to reduce the time and facilitate our efforts in the preparation of a variety of dishes and drinks. One of these indispensable helpers is a blender.
A blender is an electrical device that is designed for rapid grinding and mixing of products, the preparation of cocktails, smoothies, sauces. If there is in the presence of a special nozzle, you can prick ice, frozen fruits and vegetables. To select the right blender among the large amount in the store, you need to know some rules.
Criterias of choice
An important rule before buying is to clearly define the purpose for which the blender will be used.
It will be used only for the preparation of cocktails or it will be necessary to chop meat, nuts, ice. The fewer functions will be performed, the simpler the model and, accordingly, the purchase will be cheaper.
Kinds
Next, you need to decide how much food you need to process. For smaller volumes, an immersion blender is best. With large volumes will be indispensable stationary. Each species has its advantages and disadvantages.
The advantage of an immersion blender is the ability to work in any container.
When storing it takes up little space. The disadvantage is the need to hold by hand. It is impossible to move away from the process and do something else. It is convenient to use for grinding products in small quantities.
The advantage of a stationary blender, of course, is the ability to process a large volume of products at once, to prepare a larger number of servings.
Fulfilling this condition, there is no need to stay close. Hands and time are free. Very convenient self-cleaning function. Fill the bowl with water and turn it on for a few seconds. The disadvantage is the need to allocate a separate place. We can work with only one container - a blender bowl.
Power
All power blenders are divided into three types. Devices with low power from 200 to 400 watts. It is recommended to buy for grinding soft foods, mixing liquids. With more complex tasks they can not cope. Plus, this is their cheap price.
The average power of the device from 500 to 600 watts. The optimal choice of pricing and functionality.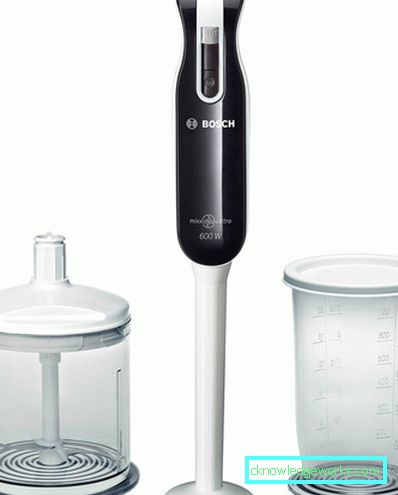 High power from 700 W and higher in multifunctional blenders. Cope with any task. Differ in high price.
Speed ​​adjustment
Better to choose blenders with adjustable speed.
You can control the process of rotation, pick up your mode for each product. If necessary, increase or decrease the speed of rotation. There are blenders with pulse mode. This is a short rotation at maximum speed.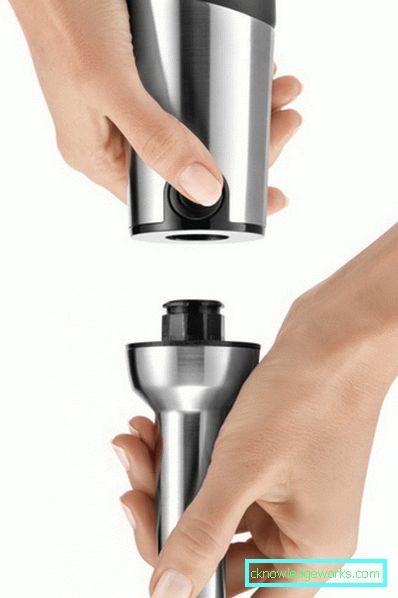 Materials and characteristics of the main elements of the device
In a stationary blender, the bowl is the main work item.
The volume of the bowl should always choose more than the planned volume of the bookmark. When turned on at high power, the products rise up. To prevent leakage and splashing, it is not necessary to fill the bowl completely.
According to the material of the bowl are made of glass and plastic.
Currently, models with carbon fiberglass bowls have appeared. The advantage of glass is hygiene, the ability to use hot products. Compared to a plastic bowl, it is heavier and can break. At cost, it is more expensive. The plastic bowl does not break, it is cheaper, but over time it gets dark, small scratches appear on the surface, and odors are absorbed. Carbon fiberglass combines the advantages of glass and plastic at the same time.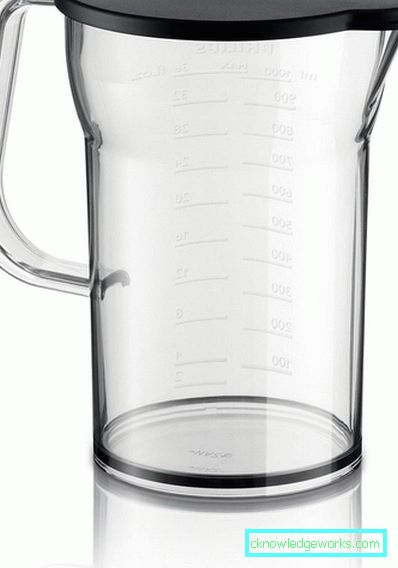 An important element is the mechanism for connecting the bowl and base. It is better if the gears are made of metal, as they experience heavy loads during operation of the device.
Attention should be paid to the presence of suckers at the base of the stationary blender. With their help, the device is securely fixed to the surface. In operation mode, moving the device is not allowed.
For immersion blenders, the immersion element (leg) is the worker. This element can be plastic or metal. From metal more expensive option, but strong, durable, is not afraid of high temperatures. Plastic is a lighter and cheaper option. As the bowl for a stationary blender, darkens, absorbs odors, is not suitable for high temperatures.
The result - wear out quickly.
Additional features
To increase the functionality there are many additional tips. They are also metal and plastic. The pros and cons are obvious. Therefore, we recommend choosing nozzles made of metal. In terms of cost, they are more expensive, but their service life is much longer.
Knives - the most used attachment. You can quickly grind and mix any products.
Whisk - nozzle for beating eggs, sour cream, mixing batter. Plus in the direction of the immersion blender.
A double-knife bowl is indispensable for chopping hard vegetables and meat.
Vacuum pump with containers. With the help of this nozzle, air is pumped out of the container through a special valve. The shelf life of products increases.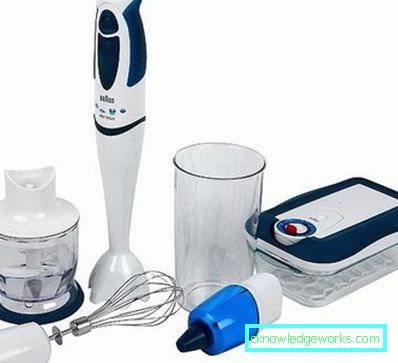 A bowl with a knife serves to grind small portions of nuts, ice, coffee and sugar.
Features of models and reviews about firms
The main features of this year's blender models are their ease of use and versatility. Manufacturers take into account the growing needs of customers, Much attention is paid to the quality, variety of equipment, design and ergonomics. The use of innovative materials and technologies increases the quality of work and the service life of devices. Introducing the top best brands of this year:
Bosch
The most sought after German brand. Strongly strengthened the leaders and, judging by the level of sales and customer reviews, is not going to give up their positions. High European quality, modern design, a wide range of models in different price categories.
In the low-cost segment, the leader is the Bosch MSM 66110 submersible blender. The simplest model has one speed and a turbo button. The advantages are a metal submersible element, non-slip coating of the handle, power 600 W and a very affordable price.
The most powerful is an immersion blender with the functions of a Bosch MSM 88190 food processor. Power 800 W, 12 speeds and many additional nozzles. You can chop, rub, chop vegetables and fruits, mix drinks, beat eggs, knead the dough. Multifunctional device does not take up much space in the kitchen.
Very high rating on customer reviews. Marked clear, simple maintenance, high power and reliability. Silent work is especially appreciated by mistresses who have small children.
The disadvantage of one - a higher price than that of counterparts from other companies. Ultimately, in terms of price-quality ratio, these are the best blenders on the market.
Braun
Another successful German brand that produces a wide range of blenders. They are distinguished by strict concise design, long service life and fully meet the stated quality.
The hand blender with the Braun MQ 5045 WH Aperitive was the leader of the year in its segment.
This 750 W device has a convenient holder, a metal submersible part, durable knives, additional nozzles for splitting ice, a whisk.
Stationary blender Braun JB 3060 Tribute. Power is 800 W, has five speeds, steel knives, a bowl from a thermoglass of 1 liter. Despite the high cost, the brand consistently receives high marks according to customer reviews. Blenders are multifunctional, convenient and understandable to use.
The disadvantage is a higher noise level compared to similar models in the same price category.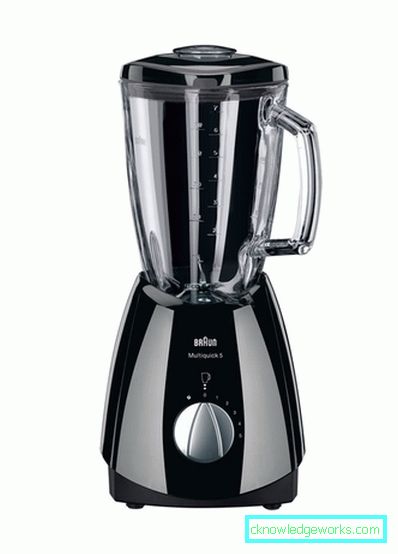 Philips
Closes the top three Dutch brand Philips. Uses the patented ProMix technology, which allows you to quickly grind and evenly mix any products. ProMix is ​​a combination of the special shape of the blender head and the special design of the knife.
The best Philips HR 1672 hand blender. Power 800 W, knives with titanium coating, one-touch control of the SpeedTouch (adjusting the speed by pressing force), the presence of additional nozzles. Cope with any task. Good value for money.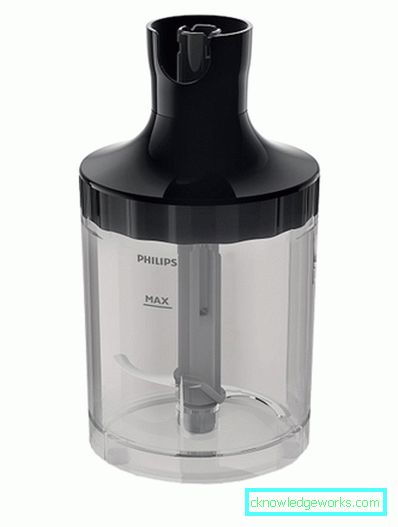 The Philips HR 2166 stationary blender has a good power of 600 watts. The ability to select the speed individually for each product, the pulse mode allows you to quickly prepare smoothies, cocktails, vegetable purees and soups.
According to customers, the advantage of this brand is a good power devices, ease of operation, very easy speed control, versatility and quiet operation.
The downside is the expensive price for additional nozzles.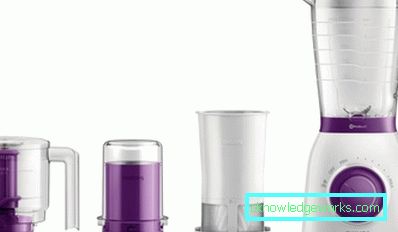 Moulinex
The most popular model of the French brand is the stationary blender Moulinex LM300. Its average power is enough for processing even solid vegetables and fruits. The main characteristics are two speeds, the presence of the Pulse mode, a 1.5-liter plastic bowl, ease of assembly and disassembly, quiet operation and a low price.
The submersible Moulinex DD855 blender with a power of 700 W, has an additional nozzle nimbus and a nozzle for mashed potatoes. It has one speed, turbo mode and pulse mode. This is quite enough for the effective operation of the device.
According to customer reviews, a stable good score. Brand on the market for a long time. They are used to it, they love it.
Users note concise design, reasonable price, good service life. Problems may arise with the attachment of nozzles in a submersible blender.
Kenwood
The most powerful of the submersible blenders of this brand is Kenwood HDM 802. It has a metal submersible element, an additional whisk head, a turbo mode, and a high power of 1000 watts. Will cope with any products.
Expensive, but even more powerful, stationary Kenwood BLM 800 blender. Power 1400 W, 6 speeds with smooth adjustment, pulse mode, a 1.6 liter glass bowl, make it possible to quickly grind products of different hardness (including ice prick), to prepare smoothies and drinks in large quantities.
According to customers, for a good price you can get quality and durability. Very powerful, with smooth speed adjustment, thought out to the smallest detail, the models are easy to use.
A big plus is the quiet operation of the devices. High appreciation buyers give for the design. Deficiencies not identified.
Bamix
The Swiss brand has unsurpassed quality and stylish design. The Bamix M200 Swissline Superox submersible blender will easily replace a food processor. It is made of environmentally friendly material - steel. Power 200 W, the presence of two speeds, plus additional for chopping ice, 4 nozzles for grinding, mixing, whipping and multifunctional. Refers to the expensive price segment.
According to customer reviews, a definite plus in multi-functionality, durability, catchy design and a wide range of colors.
The main advantage, according to users, is the absolute silent operation of the device. The only inconvenience in using delivers a short cord.
Scarlett
The Russian-British corporation with production in China focuses on the consumer in the segment of low and medium prices. Even in the largest configuration, with a capacity of up to 1000 W, it is notable for its inexpensive price.
The simplest model submersible blender Scarlett SL-HB42S08. Compact, simple, with a decent power of 500 watts, it copes well with various products.
According to customers, the main criterion for choosing this brand is low price, optimal engine power, lightness. No special flaws have been identified. It corresponds to its price.
Vitek
Vitek blenders justify the price-quality category. The company is trying to use new developments and produces a wide range of low price category.
Model Vitek VT-3404 BK is ideal for lovers of cooking salads. Additionally, the model is equipped with a whisk for beating, a disc for grating or shredding and a nozzle for dicing vegetables and fruits. Powerful 1000W engine, 20 speeds with continuous adjustment, turbo mode, steel submersible element, 1.75 liter bowl. Able to process a large volume of products in a short time.
According to customers, very high quality model. Very powerful, compact, indispensable assistant in the preparation of salads. Decent grade for a democratic price.
The lack of a heavy load may break the plastic part of the nozzle of the whisk. In general, it is noted that the price of this brand meets expectations.
Polaris
Inexpensive powerful submersible blender Polaris PHB 1036 AL TITAN. High power of 1000 W gives the chance to process products of any hardness. It has two speeds and turbo mode. Additionally, the blender is equipped with a grinder and measuring cup.
According to buyers, for a fairly low cost, we have the opportunity to get a quality device with good functionality.
The main disadvantage is the high noise level.
Rawmid
This is the first Russian company that produces high-quality, professional equipment at affordable prices. The professional Dream Modern 2 BDM-06 professional blender is recognized as the best model of this year. The stationary blender has a super-high power of 2900 watts. Able to grind food straight from the freezer. Knives are made of high grade steel. Thanks to the cooling system, the motor can work for a long time without interruption. In case of overheating, the system will automatically stop the motor and turn it on again only after it has completely cooled down. Management can be manually or electronically, according to one of eight programs. The 2 liter jug ​​is made of tritan food grade plastic. It is completely safe and does not absorb odors.
According to users, Rawnid blenders are chosen for their three basic qualities: high power, ease of use and reliability. For commercial structures, a blender makes it possible to produce a wide variety of dishes and drinks.
Thanks to its great power, it is possible to make a paste of nuts, a sorbet of frozen fruit. It is noted that a perfect homogeneous, velvety texture is obtained as with an extractor.
Electrolux
A worthy brand on the market is the Swedish company Electrolux - made wisely. The Electrolux ESB2500 model quickly gained wide popularity. The 300 W stationary blender is equipped with two 0.6-liter road glasses, which are made of impact-resistant plastic tritan. Glasses are optimal in size, closed with a lid, it is convenient to hold them in shape in their hand, and if necessary they will easily fit in a bag. You can take with you on the road, to work or to workout.
This model is also called a sports blender. A good opportunity at home to eat during the day, before and after workouts, without feeling heavy.
According to customers, it is very convenient and thoughtful model. The presence of sharp knives shortens the process of making cocktails and smoothies. You can take a glass with you. There is an opportunity to purchase additional glasses. Virtually no cons. It may be noted the absence of special protrusions for winding the cord during storage. As a result, we get excellent quality and stylish design at a good price.
Worthy brands for quality are Panasonic, Oursson and Marta. A special place is occupied by brands Smeg and Siemens. This is always high quality and reliability, impeccable design, excellent performance. Models of these manufacturers are in demand among buyers with high technical and aesthetic requirements. At the Oster brand, all drive parts are made of stainless steel, which directly increases operational reliability and service life. Marks JTC, King-Mix, Blendtec focused on the production of professional blenders.
Supra, Leran, Elenberg and Zigmund received the lowest rating, according to buyers. Shtain. Very poor quality is noted, Devices fail almost immediately after purchase. Buyers do not see the point of wasting money.
Having obtained basic information about the rules and criteria for selecting blenders, comparing customer reviews, it will be easier to determine and find the best option for yourself. The right choice for you!