Blender Work
About brand
Features and benefits
How to make the right choice
Russian brand Bork produces a wide range of kitchen appliances. Any Bork blender will be a reliable helper in the kitchen. The main thing is to make the right choice.
About brand
Bork has German roots, but its head office is in Moscow. The products of this brand was originally developed for the Russian premium class buyer: this is why the brand is so loved and respected. Technique for a comfortable and beautiful life - the mission of the company. It is sold through official distributors (well-known chains of home appliances), as well as through its own network of mono-brand boutiques.
Among the products Bork - basically everything to create comfort: appliances for the climate in the house, air purifiers. But the most important thing is, of course, the kitchen! This manufacturer can find a huge selection of devices for modern and status cuisine. Powerful kettles of steel and glass (there is even a model with a gold coating), coffee makers and coffee machines, ultra-modern steamers, slicers, meat grinders and waffle irons and, of course, a wide range of blenders.
In the range of the manufacturer there are about a dozen of current models of immersion or stationary blenders.
The power range is from 170 watts to 2200 watts. The price depends on the capacity, roominess (if we are talking about a stationary model), materials (some models have a solid all-metal case, and some are supplemented with plastic), the use of innovative or patented technologies. But it should be understood that even the cheapest device from the Bork line will cost an order of magnitude higher than other popular brands of blenders.
Features and benefits
In everyday life, submersible-type gadgets are more popular. They take up less space and can work with even the smallest amount of food prepared.
The simplest and inexpensive model of the Bork blender - B703.
Its power is 170 W, the number of revolutions reaches 22,000 per minute. He has one speed limit. Included - 3 nozzles (2 for grinding and 1 for beating). You can use it in a glass, and you can work with a grinder, the volume of which is 500 ml.
The body is made of plastic, the submersible part is made of steel. Knives have a special nitride-titanium coating, which increases the service life of the device and its effectiveness.
The blender has a special storage rack in which you can put not only the device itself, but also conveniently place the nozzles. Removable parts of the blender can be washed in a dishwasher. Comes with a measuring cup.
More powerful blender with a stylish design - B704. It consumes 700 watts, but it works almost silently. It also has a convenient stand in which all the nozzles are located (there are 3). The number of speeds increased to five, there is a chopper with a bowl and a lid, as well as a spacious measuring cup (1.2 l).
Small but stylish - this is another submersible in the Bork range.
Model B781 is made in Switzerland. It uses a reliable, powerful and silent Swiss-made engine, as well as several "smart" technologies. In particular, its body is perfectly balanced on the arm so that it will not fly out of it, and the palm will not get tired when cooking. Power - 300 W, 2 speeds. In addition to the standard nozzles, there is one more that protects the walls of the kitchen from splashing food. All-metal body and amazing retro design.
All these gadgets are perfect for beating creams, children's vegetable and fruit purees, light vegetable soups and cooking other dietary foods.
Bork stationary blenders are real small combines that can replace several household appliances at once.
Model B804 - for those who are firmly in the way of proper nutrition. It is designed specifically for the preparation of fitness dishes so that they can be done in record time and immediately take with you.
The stationary blender has a main bowl and 3 stylish glasses with lids, where you can pour cooked dishes and take it with you. This model is loved by athletes and bodybuilders, as it is ideal for smoothies, protein shakes, easily copes with vegetables and nuts.
Power 1000 W, while the control is mechanical, that is, you can adjust the degree of grinding yourself. The system of knives in this device is designed so that no "empty zones" remain in the bowl, which means that not a single lump will remain in the puree.
The blender can also replace the juicer. For lovers of citrus fresh fruit model B 501 is suitable. Perhaps this is one of the most versatile models: such a bachelor, and a large family with children and fitness enthusiasts. 6 cooking modes allow you to mix, chop, beat and make smoothies. On top there is a nozzle for squeezing the juice from citrus. Power 1000 watts.
The less versatile, but more powerful B800 blender is not without difficulty, but copes with two whole apples. Power 2000 W, three modes - for mixing, for making soups and smoothies, and pulse mode for chopping nuts or chopping ice. About this - in our video.
The system of 6 highly raised knives and a square-shaped bowl make it possible not to miss a single piece.
Since this particular Bork model is considered a classic, it can be ordered in a luxurious design - with a gold finish. The upper part of the base and the buttons will be covered with 999 gold. This solution is for the most luxurious and pretentious kitchens.
A power of 400 W or so is considered suitable for a universal blender. Model B780, it would seem, without the "bells and whistles", but impresses with its reliability. It is made in Switzerland and has a unique system of fastening the bowl and body. The flower-shaped jug perfectly matches the classic knives. Power 450 W, 2 types of program. The device has one knob to control - the intensity is adjusted manually.
The most advanced model is the B802. Soup or baby puree comes out of this blender hot, which means that you can immediately pour food into a plate and eat it! Busy housewives or young moms will appreciate such a device.
This is the most powerful blender of the entire line - 2200 watts. Of course, it crushes instantly and leaves no large particles. 5 programs allow you to cook the most popular dishes: smoothies, cold desserts, soups.
For lovers of cocktails - an additional feature of splitting ice: about this - video.
The system of knives itself distributes the mixture flows up and down. This avoids the situation that is standard for stationary blenders, when the ingredients below have already turned into mashed potatoes, and are motionless on top. The manufacturer calls the B802 exclusively a "super blender".
How to make the right choice
When buying a blender, the most important thing is to understand the purpose for which it is needed. If you need an assistant for making pastry creams, pancakes, baby purees and soups - a simple submersible device with an average power level is enough. Model B704 or B781 will do.
Customer reviews of the B704 are controversial. Everyone notes a low noise level, a nice design, a good chopper performance and ease of mashing. However, many buyers complain about the little functionality for their price. In addition, in a number of reviews it is said about a useless nozzle for beating ("nothing can be beaten"), strong heating of the device and a short cord.
The less powerful, but more stylish B781 reviews are less, but they are mostly positive - a silent operation of the device, you can eat a froth from a milkshake with a spoon, an excellent design.
The budget model B703 is well suited for those who use the blender infrequently. Judging by the estimated customers, it heats, makes noise and sprays food. Although there are positive reviews from those who have not found a single minus in the model.
Stationary devices are suitable for large families, lovers of an active lifestyle and supporters of proper nutrition. If your diet regularly includes smoothies, casseroles based on vegetable and fruit purees, if you make homemade sauces and mayonnaise - an immersion blender will obviously not be enough. In addition, the stationary device copes well with cocktails, which means it is suitable for those who like to organize parties.
It is worth noting - no producer even tries to call the stationary blender "silent". If the gadget is powerful, it will make a loud noise, you will have to accept it. And nevertheless, "silent" buyers consider stationary model B800. According to reviews, the blender copes with grinding to a solid four - in particular, the perfect "green smoothie" in consistency, which contains a lot of leafy vegetables, does not work. When working, you need to hold the blender with your hands, because it vibrates - this is also a reason for criticism. The bowl is not designed for small volumes - if the content is small, it immediately splashes on the walls.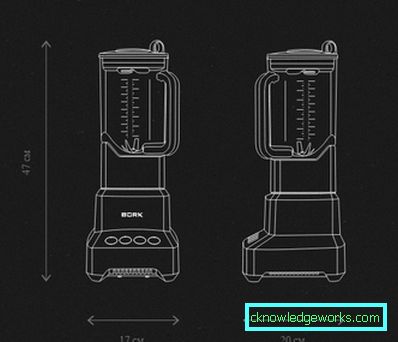 At the same time, the model remains popular. Many consider it "semi-professional", good reviews about it are from bartenders who mix cocktails on this particular device.
About the fitness model B804 a lot of rave reviews. Buyers conquer cups with lids, in which you can not only take cocktails and smoothies with you, but also keep them in the fridge, for example, homemade mayonnaise or other sauces. There are no serious complaints about the quality of grinding. The model is suitable not only for adherents of sports nutrition, but also for families, where there are many children - everyone will get a cocktail in their glass.
The B501 blender-juicer is famous for its large bowl made of heavy-duty plastic, which looks very much like glass. It does not beat and is easy to clean. According to reviews, with mixing and grinding copes well. Juice extrusion nozzle is rather a useless bonus, because squeeze manually.
Anyone who likes to make dough for pancakes or beat the eggs, it is worth considering, the Bork technique does not have the traditional nozzle "blender whisk". Whipping nozzle has a different shape. Such a "head" is in all submersible models, but the reviews about it are very contradictory. Mixers of the same manufacturer have a nimbus of the usual type.