Blender whisk
If you like to pamper your household with a variety of desserts, cocktails and smoothies, then you should look at the blender with a whisk. This device is very popular among the fair sex, who can not imagine their lives without making delicious and healthy delicacies.
This device replaces the usual mixer. Let's see what kind of kitchen utensils are and whether we need to spend money on it and acquire it for use in cooking.
Difference from mixer
At first glance it seems that these are two identical devices, but with a different name. But it is not. They have both the same characteristics and distinctive features.
These two devices resemble similar nozzles, which are used to whip different foods that have a liquid consistency, for example, sour cream for making cream, eggs for making omelettes, and pancakes dough.
The main differences between the whisk for the blender and the mixer are as follows:
A mixer is a highly specialized household appliance that includes two corolla. This device has no other components.
Blenders with a whisk - unlike the previous household appliance have a huge number of additional functions, for example, they can grind meat into mincemeat, convert vegetables and fruits into mashed potatoes.
There are models with diced nozzles that are convenient to use for making salads, or component parts that allow you to chop ice. The whisk as an additional component of such a device performs the same functions as the mixer.
Despite the fact that the blender is cheaper than a mixer, it has a much larger range of useful functions and allows you to save money on the purchase of various household appliances for the kitchen.
Models with two corollas
Manufacturers of blenders went to meet the hostess, who consider the mixer more convenient kitchen appliance because of the presence of two rotating elements. They developed a special nozzle with two corollas.
With this component, this household appliance will become the favorite device of the hostess, who loves to bake and create confectionery masterpieces in her kitchen.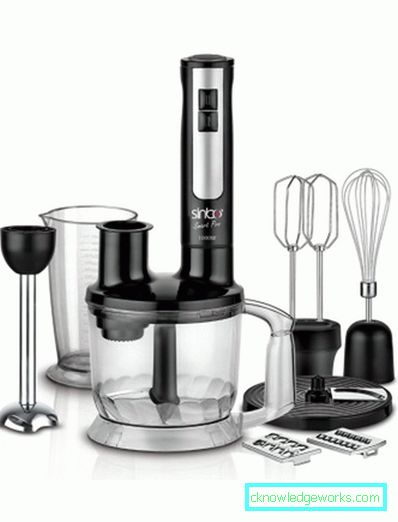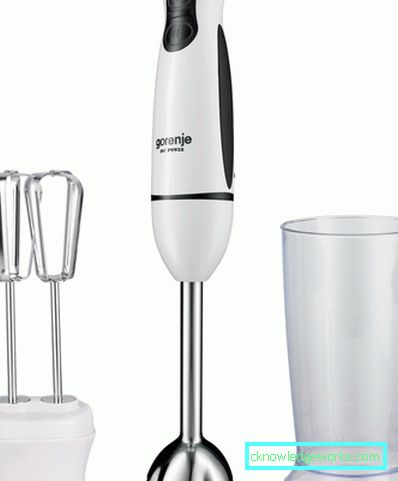 For example, the well-known manufacturer of home appliances Philips, offers a hand blender, which includes such a mixer nozzle. It is perfect for mixing a large number of components. Thanks to it, you can beat the dough for muffins and cakes more efficiently than in manual mode. You can easily fluff cream or protein, as well as create an incredibly gentle curd cream, uniform in consistency and devoid of lumps.
Main characteristics
This miniature home appliance becomes an indispensable assistant for both experienced and novice hostesses. And all because it allows you to perform various actions during cooking:
whips dough for biscuits, pancakes, fritters and other confectionery products, which include the mass with a liquid consistency;
it combines cream, used to create curd, boiled, creamy, butter and other creams;
allows you to remove the lumps in the glaze, making it homogeneous;
Using this device, the process of whipping proteins does not take much time and you can prepare a weightless sweet delicacy called meringue;
with the preparation of a fluffy and airy omelet such a device can easily cope.
Fans of a variety of cocktails or smoothies will appreciate the halo for a blender, because this nozzle allows you to create a truly delicate and airy drink.
Main advantages
The hostesses, who once used this household appliance, appreciated all the advantages provided by this small kitchen appliances:
Save time and effort - allows you to quickly cope with time-consuming processes. For example, in order to beat the whites in a blender, it will take just a few minutes; for a hand whisk, this process can take 15-20 minutes.
Easy to assemble and operate - nozzle-whisk is easy to install and remove.
Special button contributes to the choice of the optimal speed limit, which is suitable for a particular dish.
Low weight allows you to use the device for a long time without feeling tired. This is especially true if the hostess has planned to prepare a complex dessert, during the implementation of which you need to constantly use the whisk for the blender.
It does not require special care: components can be rinsed under running water or washed in a dishwasher.
Selection rules
In order for the blender to be served faithfully for a long time, it is necessary to carefully select it. It is necessary to study the characteristics and read the description of the various models.
Particular attention should be paid to certain points that play an important role and affect the performance of this household appliance:
Power adaptations - the higher it is, the easier the device will cope with the tasks. The power range is quite large: from a modest 300 watts to a professional 1350 watts.
It is worth noting that a blender with low power will cope only with light targets, for example, beating eggs for an omelet. It is better to entrust serious tasks to a strong analogue, since an increased load can spoil a weak household appliance.
Strength rods, the nozzle is made of - not only the high-quality mixing of products, but also a long service life depends on this parameter. If the whisk head is made of bad metal, then under the influence of the applied efforts, for example, to whip the biscuit dough, it can be deformed inadvertently and you will have to replace the broken part.
The ability to regulate speeds - This feature allows you to protect the table and walls from splashing the mixture during the work of the device, as well as to protect the device from being stuck in a viscous dough. It is necessary to give preference to a model with several modes that smoothly switch. The presence of a pulsating or turbo mode will allow you to choose the optimal speed, and you can beat the ingredients without fear for the cooking process.
Comfortable grip also plays an important role when choosing a blender. Since this is a manual model, it should be placed comfortably in your hands and not slide off during operation.
Manufacturing companies
In order for the device to bring joy from use and become a loyal assistant in the kitchen, it is better to opt for proven brands. They care about the quality of products and are constantly working to improve their devices.
The most popular among hostesses are blenders from brands:
Bosh;
Braun;
Philips;
Moulinex;
Redmond
Such devices are distinguished by high power, the presence of a large range of speeds (in some models, their number reaches 12 pieces) with smooth control for convenient and comfortable use of the device. They also boast pulsed and turbo mode.
A blender with a whisk head will become your favorite household appliance that will allow you to create a variety of culinary masterpieces, while spending a minimum of time and effort. The main thing is to carefully consider the choice of this device and first study its characteristics and description before purchasing.