Blender steamer for baby food from famous brands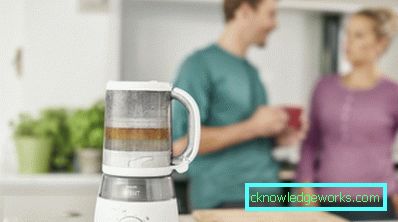 The introduction of complementary foods is a serious stage in the infant life. Food should be of high quality and useful. But not always we can trust the goods that are sold in the store. One can never be completely sure that products do not contain preservatives, nitrates and other harmful substances. The steamer-blender for baby food will help to solve this problem. It will facilitate the preparation of mashed potatoes for the baby, and you can control the quality of this product yourself.
8 photos
Features and benefits
Steamer blender - an indispensable device in the house where the baby appeared. With the help of it, you can easily mash your complementary foods at home without spending a lot of energy.
This device has many advantages:
No need to cook vegetables on the stove, losing time to keep an eye on their cooking. Steamer has a timer.
No need to grind food through a sieve. Turn products into mashed potatoes easily and quickly built blender.
No need to additionally wash the dishes, as the food is prepared and mashed in one container.
Takes up little space.
Designed for the preparation of small portions that just suit the baby.
Steamer-blender will help to free up additional time for classes with the child. In addition, the food, steamed, retains a maximum of nutrients, vitamins and trace elements, so necessary for your baby. They are not digested in boiling water.
To cook food in it, you must cut the food into small cubes and put on the function of cooking. After everything is cooked, it is necessary to grind everything well, turning it into puree. Different manufacturers purirovaniya food happens a little differently. Manufacturers often equip their appliances with additional features, such as heating, defrosting, or a mixer. Complete with the device almost everywhere there are books of recipes, and also capacities for storage of products.
How to choose? Rating of the best models for baby food and reviews about them
In the market of household appliances, this device is represented by several manufacturers. Each of them has its own characteristics. Here are the best models.
Beaba Babycook
This manufacturer has proven itself. The device has a power of 350 watts. All blenders-steamers from this manufacturer have 4 programs: steam cooking, blending, heating, defrosting. Presented by a wide range of colors that will make this device a bright accent in your kitchen, and the most popular of them is gipsy color. The glass of a double boiler is made of shock-resistant plastic that will prolong the term of its service.
Grinding products occurs with the help of pulses, which allows you to choose the consistency of the products obtained at the outlet according to the age of the baby, whether it is homogeneous mashed potatoes, rubbed food or small pieces. Food preparation time 15 minutes. First, the pieces need to cook in a grid of a double boiler, then pour it into a glass with a grinder and make mashed potatoes.
In this device there is a pan for collecting broth from cooked dishes, which will help to make the consistency of food you need, without losing useful substances.
The blender steam cooker of the Beaba Babycook brand has several modifications:
The Original model with a 600 ml bowl is ideal for making mashed potatoes to start feeding and to feed the baby. Included with the blender-double boiler is a recipe book that will help diversify the kid's menu. The cost of the device is about 8,000 rubles.
Model Original Plus is identical to the previous one. As a supplement, it has a bottle warmer-sterilizer, which is convenient if your baby is on artificial or mixed feeding. This function allows you to first sterilize the bottle, and then heat the mixture in it to the desired temperature, without using additional dishes, creating more sterile conditions that are so important to your child. The cost of the model Original Plus about 7,500 rubles.
The Solo model has a single enlarged bowl with a volume of 1100 ml. It is easy to control with him even with one hand. The device is quite compact, does not take up much space in your kitchen. Its cost is from 8500 rubles.
The Duo model strongly resembles the previous modification, but has two 1100 ml bowls, which makes it possible to cook two dishes at the same time. The cost of this device ranges from 11,000 to 15,300 rubles, depending on the store.
Reviews of this device are positive. Its use makes it easier to feed the child, you can easily prepare not only mashed potatoes and vegetables, meat or fish, but also various cereals, acquiring an additional mesh for cooking cereals. In addition, the recipe book helps to diversify the kid's menu.
Chicco
This manufacturer has two models of steamers-blenders.
Babypappa This device is also designed for making tasty and healthy food for the baby during the entire feeding. He steamed, crushed, mastered. There is a function of defrosting and heating. Also with the help of it you can beat the products. Power is 400 watts.
The kit includes a spatula tank, a chopper head with covers, two containers with lids, and a stand for heating. Broth from cooked food flows into the bowl. It can be used later for making mashed potatoes.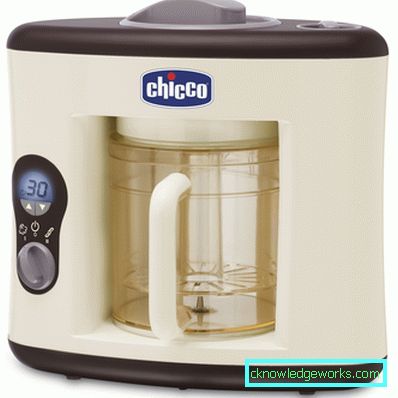 Unlike the previous model, the chopper is not in the tank during operation of the double boiler. And it is not affected by high temperatures, which prolongs its service life, leaves the blades in excellent sharpening for a long time. The steamer has an electronic timer that automatically sets the cooking time for half an hour. But it can be increased or decreased, if there is such a need. The cost of this technical device is 8000 rubles, but they are rarely to be found.
Natural Steam Cooker. More modern modification. The kit does not differ from the previous model, but the knife of this device has an innovative shape. It allows you to make a perfect, uniform puree, while not creating air bubbles that adversely affect the child's digestion, being one of the main causes of children's intestinal colic. The cost of about 10,000 rubles.
The reviews about this manufacturer are pretty good. Buyers especially appreciate the electronic control of a double boiler, which allows you to clearly determine the cooking time of the product. Blender knives make mashed potatoes homogeneous, similar in consistency to the store product, which is ideal for the start of feeding. But they can also make just a shredded meal for older children. The recipe book is also very popular when using the device.
Bololo baby
The Kitchen model is a budget version of a steam blender. Its cost is almost 2 times lower than analogs. In this case, it contains all the properties inherent in expensive models. Also has 4 functions in one device. This is defrosting, heating, blending and boiling. Excellent cope with them. There is an opportunity to purchase an additional bowl for cooking pasta, cereals, making omelets, souffles and cottage cheese desserts.
With this device you can always cook food for your baby.
The Bololo baby steam cooker is convenient to take with you. Its weight is only 2 kg, the volume of the bowl is 600 ml. Cooking time in the device varies from 15 to 30 minutes, you can set it depending on the products you want to cook. The degree of grinding can also be set to any, and at the output get a homogeneous mashed potatoes or small pieces. Wash the blender steam cooker is not difficult, since it does not have many elements. Easy to wash you can use the dishwasher. The cost of the device is about 5,000 rubles.
This manufacturer is located in China, but it should not confuse you. All products are certified in accordance with ISO (IEC) quality standards.
Customers who use this device, note its reliability. It is said that, despite the mechanical control, the function of regulating the cooking time is very convenient. Also, by purchasing an extra insert for small products, it is easy to diversify the baby's food. If you compare other blenders with Bololo baby Kitchen, we get that you get a fairly high-quality product for a small amount of money, without overpaying for the brand.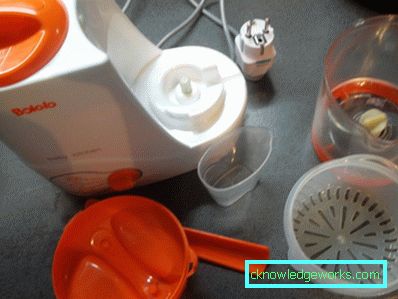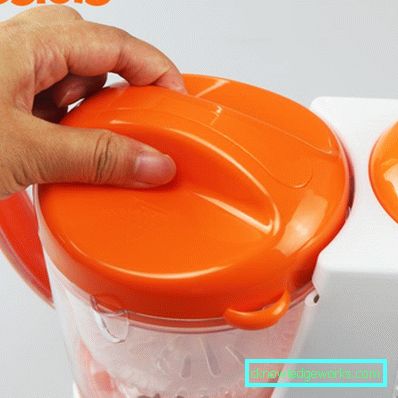 Oursson baby
Quite a powerful device compared to the analogues presented above. Its power is 500 watts. The device perfectly grinds products, there is a heating function. With it, you can cook vegetables, soups, cereals and much more. It has electronic control, signals the end of work. It has 10 automatic programs. For the safety of children there is a complete lock. The baby will not open the device, which will help to avoid injuries. Its weight is 3 kg, it will not be hard to take with you. The cost of a steam boiler-blender of this manufacturer is about 7,000 rubles.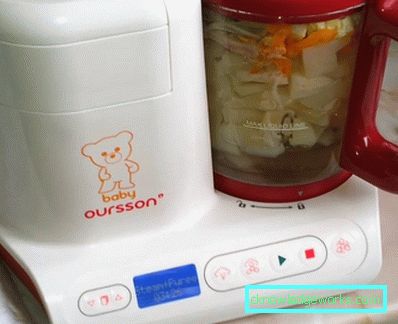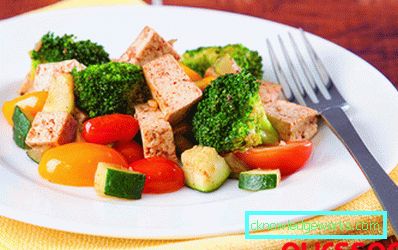 7 photos
Reviews of this device laudatory. It is very convenient because you do not need to shift the food, cut the food, folded it, set the program and after a set time got ready mashed potatoes. But you can simply steam or use the device in the form of a blender. There is an option to cook soup. Although some do not like to cook porridge in this device.
A blender steam cooker is a handy thing if a baby appears in the house. To feed the child puree of vegetables, in which you are fully confident, this device will help. At the same time, it will not take much time, and you will be able to study with your child, help its development or just play.