Blender Russell Hobbs
Cooking with Nutri Boost
Advantages and disadvantages
Simplicity and comfort
If you want to pamper your loved ones with healthy fruit purees, the most delicate soups, delicious fish or meat sauces, then you just need to turn your attention to Russell Hobbs blenders.
The range of this company is impressive. But focus on a particular model, namely Russell Hobbs Nutri Boost.
Cooking with Nutri Boost
The device perfectly grind almost every product. After all, its speed is 22 000ob \ min, and this is one of the highest indicators for the model range of this class.
The blender includes a serrated knife that perfectly grinds coffee beans and nuts. He also perfectly copes with the cutting of parmesan or other varieties of cheese. Consumers say that with the help of Nutri Boost you can make fruit and vegetable cocktails, cream soups, various types of detox, delicious smoothies, wonderful sauce without lumps.
Blender Nutri Boost is ideal for cooking baby food, especially for the little ones. After all, his sharp knives in a few seconds will make for your baby a delicious tender puree.
This household appliance includes:
3 large bowls, size 700 ml;
2 small bowls of 350 ml;
knives for mixing and grinding products;
lip rings;
2 sets of lids for on-the-go drinking and food storage in the refrigerator;
shaker cover.
Absolutely all parts are easy to wash in running water and in the dishwasher.
Advantages and disadvantages
Judging by consumer reviews, the main advantages of the device are:
Power.
Convenient management.
Practical blender design.
Accelerated function.
Sharp knives.
Device weight (3 kg).
Good mount in the form of suckers at the bottom of the bowls.
Simplicity and ease of use.
But, nevertheless, with such a lot of positive reviews, some consumers point to several drawbacks, namely:
Blender bowls do not fold into each other, and it takes a lot of space on the shelf for storage.
The bottom of the bowl is very wide.
There is a small gap between the blade and the side wall of the container.
Simplicity and comfort
Another type of palener Russell Hobbs, which has earned the preference of consumers, is a model with a bowl Illumina.
It is quite simple to use due to the so-called color control: a special luminous "information" ring changes color depending on the type of product and the speed of grinding. Namely:
Mashed potatoes, the first speed - blue.
The second speed for making a thick mixture is purple hue
The third is soups, the color is green.
Ice crushing is signaled by red.
The Illumina package includes a bowl, which has a special shape that helps to mix products more thoroughly, and titanium blades are four times stronger than classical ones. Power blender is 850 watts. It is easy to use it, as well as to take care of it, and the sophisticated design of the device will perfectly fit into the interior of any kitchen.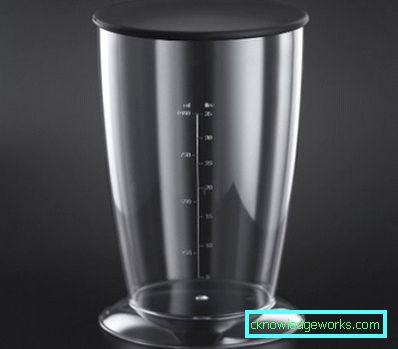 Russell Hobbs cares about its customers and constantly delights them with the latest technology.