Blender Maxwell
Features
Overview of some models
Which to choose
Reviews
Blender Maxwell will be a quality and reliable helper in the kitchen for any hostess. This manufacturer has reliably established itself in the market of household appliances. In addition, all Maxwell models, with appropriate reliability, have quite affordable prices.
Features
For several decades now Maxwell has been manufacturing reliable household appliances for the home. Blenders from this manufacturer differ in trouble-free and relatively quiet operation, several modes of speed for all variants of models and additional items in the kit. The company's motto - "My first love" - reflects the attitude of housewives to this household appliances.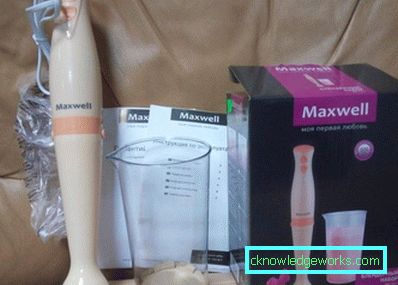 Maxwell offers a wide selection of blenders of MW models with capacities from 500 to 100 W, with speeds ranging from 2 to 10, both the simplest at low prices and professional ones. There are fixed and submersible options.
Overview of some models
Submersible blender Maxwell MW-1169 It has a mechanical control, 2 speeds and a maximum power of 500 watts. The metal whisk copes well with the grinding of any products, the set includes a measuring cup. The plastic case is comfortable, well held in the hands.
Review this blender model in the following video.
Included submersible option Maxwell MW-1160 There is a removable whisk for beating liquid products, a measuring cup and a plastic jug of 1.5 liters. The maximum power reaches 900 watts, it is a more professional model, suitable for any solid products. It works at 2 speeds.
Model Maxwell MW-1159 stationary, with 2 speeds and a power of 1000 watts. Nozzles for beating, crushing and splitting ice, measuring cup with spout are included in the kit. The convenient handle has touch management. This product is suitable for professional use even in cafes and restaurants.
Stationary option Maxwell MW-1184 has a stylish appearance with white and green colors. Its working power is 600 W, the speed mode is regulated with a convenient round handle. The volume of a jug is 1,5 l.
Which to choose
This type of household appliance is used for grinding food and mixing liquids. There is a huge number of dishes, the preparation of which is simplified with the help of it, so these products are always in demand.
There are 2 types of blenders: immersion and stationary. The first type has the appearance of a mixer without a bowl. Its advantage is that it can be placed in any suitable vessel of different volumes: pots, cans, cups. In addition, submersible species cost less. Stationary blenders are more professional equipment for culinary art lovers. They have a jug, a lid, often several adjustable modes of operation and a higher cost.
Working capacity is also an important indicator when choosing a kitchen blender.. In cheap submersible models, this figure does not exceed 600 W; in professional stationary models, it can reach 1200 W.
If the capacity is not enough, the blender is not able to grind solid foods, such as ice or nuts. Low-power equipment can become very hot during operation, which disables it.
The third selection criterion is the number of operating speeds. The optimal indicator is 15-20 modes, with such parameters you can grind and mix any products. Even when buying a blender, it is worth considering the volumes and shape of the jug, the number and types of nozzles, the presence of a spout for ease of draining, measuring cup or additional functions in the form of overheating shutdown, self-cleaning system and others.
Reviews
Hostesses give Maxwell blenders mostly positive reviews. They are valued for the excellent quality of work at affordable prices. For home irregular use recommend MW-1169 models, which are inexpensive, ergonomic and durable. Of their shortcomings, only a relatively small capacity is noted.
For those who like to cook using an electric mixer recommend Blender MW-1159, which has several modes and is suitable for grinding ice. He is considered a real professional model for experienced chefs.