Blender Kenwood
A blender may seem to someone a simple and unnecessary device, but in fact it is a very useful device that should be in every kitchen. Generally speaking, a blender is a smaller version of a food processor. Thanks to this unit, you can make delicious cocktails, make smoothies and sauces, batter and no mashed soups. He can do almost everything: chop products to a state of mashed potatoes, mix different ingredients, and even crush ice.
These days there are different types of blenders, and many brands successfully put them up for sale. But, among the whole variety of goods of this type, choppers of the Kenwood brand, a world-known manufacturer, are in special demand.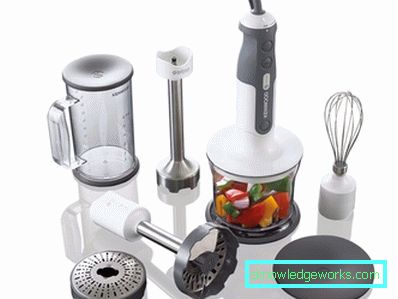 Varieties
The design and performance of the functions affect the variety of blenders. In total, Kenwood manufactures four lines of apparatuses, and so that a potential buyer can decide which device is right for him, think in advance what types of products will most often be processed, for what purposes, what volumes will be needed, and where the device will be stored.
Submersible
The name of the submersible speaks for itself - this technique is equipped directly by the device itself and the container in which it needs to be immersed. All devices in this category have a Triblade system (three blades), so that their work is more efficient than that of other models, so the preparation of cocktails with such units does not take too much time.
Another advantage of this assistant can be attributed to the fact that if the consumer releases the device power button, it immediately stops working.
In many models, there is a compartment for storing the power supply cord, it is quite easy to wash them, they do not take up much space, they are easy to use, not heavy. In addition to the basic kit of some models, Kenwood offers to purchase, if desired, additional nozzles - a whisk for whipping egg whites and a device for grinding dry foods, such as nuts.
All handles of submersible blenders have a length of 34.5 cm, while plastic models weigh a little more than a kilogram, while metal ones weigh almost 1.2 kg. Electric cords are mounted in the upper part of the handle, so they do not in any way prevent the hostess from working with different nozzles. Buttons control the speed of the nozzle are on the handle.
The obvious advantages of a Kenwood hand blender are: easy operation, small size, ease of maintenance. The disadvantages are that, firstly, during operation, the device must be constantly kept in hand, and, secondly, it cannot mix and grind a large amount of food at the same time.
Stationary
Many housewives prefer to deal with immersion blenders - they are compact, sold at affordable prices, they take up a little space in the kitchen, and by technical characteristics very much resemble stationary models. However, the difference between Kenwood TM hand held and stationary devices is obvious, with the advantages more on the side of the latter. Of course, stationary blenders are more expensive and for their storage will have to allocate much more space, however, if we consider the situation in the field of functionality, the buyer of stationary units is always a winner.
For example, hand blenders can not pierce the ice, and during operation they must constantly be held by hands. Owners of stationary models are deprived of all these problems, because the devices are equipped with capacious tanks that do not need to keep and monitor their work.
Kenwood stationary blenders are made from metal or very strong plastic. Most models have a double-sided stainless steel disc for cutting and shredding, as well as a chopping knife. Stationary models have different speeds and different functions.
The disadvantage of such models is only their large size.
Mini harvester
This is essentially the same Kenwood submersible model, but the kit includes additional nozzles and several stationary bowls. Thanks to the mini-combine, you can get a universal electric appliance, which will easily grind, puree, knead the dough, beat and cook various delicacies.
Shredder
As a rule, such a device is represented by a small plastic bowl or containers made of glass, on top of which is a handle with a moving mount and a motor. Such devices Blenders, as a rule, buy for grinding meat and vegetables of different density.
Features and benefits
All Kenwood kitchen appliances are known for their strength and durability, regardless of the material from which the cases were made, however, plastic units are always cheaper than metal ones.
Kenwood blenders easily interrupt soft products and ingredients with a firmer texture due to good power, usually 700 W. Each housewife also has the opportunity to independently set the speed of the device and choose the appropriate mode to create this or that dish.
By the special properties of the goods should be attributed all the same material from which it is produced. Firstly, the bowl in all devices is made of heat-resistant glass, which means that the container that comes in contact with food is environmentally friendly, safe for human health, while it does not absorb the odors of products. In some models, the bowl is plastic, made of durable and non-toxic. All knives are sharp and made of stainless steel, because the electric device can even cope with the crushing of ice and will do it quickly and efficiently.
Due to the pulse mode, the motor of the device is reliably protected from overloads, and the auto-shut-off function prevents overheating of the product.
How to choose
A blender is not a whim of a lazy housewife, but a very practical tool in the kitchen, an assistant to every housewife. And no matter how well a person wield a knife or a whisk for beating, the mousse made from berries can be made to create the perfect consistency or it can't be broken by ice in a minute.
No matter what type of blender was chosen, potential buyers should pay attention to the general rules.
First, the number of speeds. More often shredders have 2-5 speeds, often there are models with a turbo mode, which accelerates the operation of the device for a short time.
Secondly, insulation. A very important point, because too loud the device can put on the ears of all family members on a day off, when their mother decides to please loved ones with something tasty.
Thirdly, the automatic shutdown function will not be superfluous in the blender; if the device was operated incorrectly, it will turn off during overheating without human intervention.
Pay attention to the number of knives. It is better when there are a lot of them, thus the efficiency of the appliance will be an order of magnitude higher, and the time for preparing a dish will be significantly reduced.
Reviews
Kenwood blenders, as their users note, are a variety of shapes, colors, and sizes. Fast cooking, ease of operation and care - the main points that mark the owners of this kind of technology. Every day, Kenwood appliances receive thousands of positive feedback from those people who have learned from their own experience that these blenders are the best and deserve to be in every kitchen.
To many, the compact blender has replaced a bulky meat grinder, as the hostesses say, their assistants are comfortable, easy to clean, they work conscientiously.
Judging by the reviews, it is better to buy a stationary blender in a metal case, as the engine of the device will be better protected from unintentional mechanical damage. It is better to buy a submersible blender from impact resistant plastic - a lightweight device is always easier to manage.
Young mothers say that Kenwood blenders conveniently prepare the first baby food.
The minimum of time and effort, the absence of dirty dishes, and as a result - a gentle, homogeneous mass, the consistency in no way inferior to the purchased food for children from six months. Of course, this technique can be used not only for those who have small children. Puree, smoothies, cocktails are loved by many, and with the help of a blender, everyone can make goodies.