In the photo, black kitchens look stylish, expensive and elegant, but it is very difficult to achieve this effect. Dark colors are demanding, they must be used very carefully, so as not to spoil the interior with an unsuccessful combination or incorrect proportions. In addition, black is hard perceived psychologically. In order for the design to cause only pleasant emotions and to please the eye, you need to know a few nuances of using dark colors.
With the right combination of black with other colors, you can create a cozy and stylish kitchen interior
Color features
Black in large quantities is only suitable for spacious rooms with plenty of natural light and high-quality electric lighting. In small kitchens should be very careful with dark colors, using them to place accents.
In a small kitchen it is enough to place accents in order not to overload the interior.
Virtues
With all the rigor and gloom of color, black has clear advantages:
Allows you to smooth out too bright colors of the interior, as well as to balance the sharp transitions from one shade to another;
Makes any outlines clearer, which is convenient for the visual expansion of space with the help of vertical or horizontal elements of this color;
It combines absolutely with all colors, but a number of combinations are very bright and aggressive, which requires the use of additional neutral shades;
Visually makes objects farther, allowing you to visually deepen niches or lengthen the room;
A black ceiling with white walls will visually appear higher, although the use of other dark shades may, on the contrary, make the interior heavier;
It gives a shade of elitism to any subject, especially in combination with a glossy or matte surface.
Obviously, black in the interior of the kitchen and other rooms should not be afraid. When using its shades it is only important to correctly combine them with other colors.
The black color in the interior of the kitchen looks very elegant and noble.
disadvantages
Despite the luxurious shades and a lot of visual effects, thanks to which it is possible to transform the design of the kitchen profitably, black has several drawbacks:
For small kitchens, black set is not suitable even when using white or dairy finishes;
Not suitable for northern areas - a small amount of light will make the interior very gloomy, the only exception is a predominantly white color with a small amount of dark details;
All stains from greasy fingers, traces, dust, stains are visible, such a kitchen requires more frequent cleaning;
In winter, the abundance of black parts in the design of the kitchen is especially depressing, so it makes sense to use bright details in the design - curtains, chairs, dishes, etc.
Most of these shortcomings are easily corrected, and the rest is too small to refuse the chic anthracite color in kitchen design.
Glossy surfaces of black facades of kitchen set, look very elegant and luxurious
Impact on the psychological state
The colors used in the interior, have a huge impact on the mood and emotional state of people. For example, the blue gamma has a calming effect, while at the same time helping to concentrate on work. Yellow will add energy and cheerfulness, and red movement and in too large quantities can lead to aggression and irritability. Black is considered one of the strongest in terms of the effects of shades along with red and snow white. What effect can it have:
Calm interior in black and neutral tones without bright details helps not to be distracted from business, and also relieves stress;
Depth of color reveals creativity;
This is the color of luxury and respectability, it is not in vain that it is in black color that luxury goods are produced.
Black color harmonizes well with wood and marble.
However, the use of this shade requires a large amount of light, otherwise black can suppress, drive into depression and depressive states.
Important! The color goes well with any texture - fabric, fur, stone, metal, ceramics, plastic, gloss or matte surface.
Matte surface of black facade looks very succinctly and neatly
Use in the interior
Black kitchen can look completely different depending on where and how color is applied. Different proportions, different objects and surfaces - the final perception of design depends on everything.
Floor
Black flooring looks both simple and elegant. It is best to use wooden surfaces - parquet, laminate, plank. Great looks black and white tile in the kitchen. The size of the tile can be any, as the lined pattern. However, such a contrasting floor should be balanced by softer combinations when finishing other surfaces.
Floors in the style of a chessboard look very stylish in the interior of the kitchen
Ceiling
Contrary to popular belief, the black ceiling is able to look spectacular, while not making the kitchen lower. It is best to use this version of the decor with light walls or vertical ornaments wallpaper. Anthracite glossy ceiling with built-in lights can significantly expand the kitchen space. If the kitchen design implies the presence of mirrors, the effect will be even more impressive.
The black ceiling in combination with white walls is a complete interior ensemble.
Walls
Of course, even in a large kitchen it is better not to paint all the walls in a totally black color. However, one accent wall against a background of brighter or lighter shades will look very luxurious. This technique can be used to highlight the dining area or to attract attention to the elements of decor - on a dark background, even small details look more impressive.
Unusual wall painting in black and white kitchen
Furniture and equipment
Anthracite color and shade of wet asphalt are more popular not in the decoration of floors or walls, but in the kitchen headset. If the area is small, the lower pedestals are made dark, and the upper cabinets and shelves are purchased in a light scale. Unusually in the design of the kitchen will look completely black household appliances.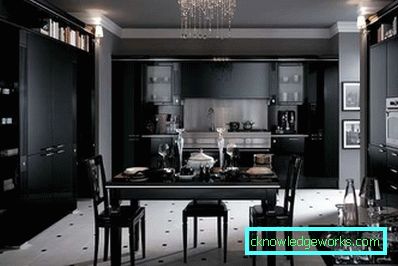 In the spacious rooms, you can choose all-black furniture or sets with white, milky, and wine-colored inlays. But for the dining area anthracite is almost never used, being present only in the form of accessories. How black kitchens look in life can be seen on the selection of photos of real interiors below.
Harmonious combinations
Black is combined with all shades, but there are some of the most winning combinations, the choice of which is obviously a good one. At the same time, it is equally possible to combine both contrasting colors and softer variants. The choice depends only on the personal preferences of the owners of the house.
White
The most classic combination. Any tone of white is able to neutralize the sharp black design, refreshing the interior of the kitchen. White brings a feeling of lightness, spaciousness and airiness.
However, it is necessary to be careful, using this color, to avoid 50/50 proportions. From such a combination will be very tired eyes, best of all, when one of the shades leading, and the second acts as an accent. If the black and white gamma seems too sharp, you can dilute it with gray, beige or bright colors - green, yellow, pink, blue.
Red
Beautiful, but very active combination. This design is extremely rarely used for interiors of residential buildings. Black and red should definitely be diluted with light - white, milky, silver-gray. Metal and glass elements will look stylish in the interior of the kitchen.
Brown and beige
A rather popular combination - the soft tones of natural wood soften the blackness of black. In the kitchen, brown is most often used in the form of a wooden set, floor, ceramic dishes, masonry, or used for decorating an apron. So that the interior does not seem boring, it should be diluted with bright details - textiles, photos, paintings, flowers.
Gray
Any shade of gray is a mixture of black and white in different proportions, so it is easily combined with anthracite tones. Black and gray kitchen is appropriate in the style of minimalism or high-tech. However, without adding accent spots such a design may seem too bland.
Blue or blue
The showiness of kitchen design depends largely on the choice of the shade of blue. Indigo itself is a very dark color, in tandem with black it will make the interior even darker, but turquoise, mint or classic blue will bring a feeling of freshness. Black and blue or blue kitchen is easily combined with any tones of brown or white.
Interior style
Kitchen design in black can be used in many styles. Simple forms of the headset and the table, glossy surfaces, built-in lights and glass elements are suitable for interiors in the style of minimalism, hi-tech or art deco. Also appropriate is such a combination in avant-garde kitchens.
Classic styles like a light scale, but here, black can fit quite harmoniously. It may be wall cabinets, so that they do not look too cumbersome, it is worth choosing models with glass doors. So that the interior does not look too modern or industrial, you can choose wood, clay, natural textiles. Kitchen design in black in different styles can be seen on the selection of photos below.
The black kitchen interior looks luxurious and stylish with the right combinations. The use of its shades is a bold move, expressing the individuality of the owners of the house.
Video: