Beige LG Fridge
Beige-colored fridge can fit into almost any kitchen interior. For those who wish to purchase just such household appliances, the LG concern offers a variety of different solutions.
Features and benefits
Beige shades of furniture or household appliances are versatile, they are easily in tune with other colors and shapes, while not being obsessive. Such a color of varying intensity gives a calm and peaceful feeling, does not strain the eyes, allows you to feel comfortable in the room for a long time. The interior of the kitchen, made in beige tones, is well suited for a small area, as well as for spacious rooms.
If the choice of other colors or a combination of them can cause uncertainty among the owners when planning the interior, then with a beige tint you should not doubt. This is even a better option than neutral white. In addition, it does not select the visual space.
A beige fridge can be installed in any corner of the kitchen, and you can use it to zone a room.
Manufacturer LG is one of the most successful options for buying such equipment. The Korean concern every year improves the devices, applying advanced technologies for comfortable use in life. Its refrigerators are equipped with linear compressors, which ensure minimum power consumption and low noise. If earlier many complained about the excessive noise of LG units, today, thanks to improvements in the internal "stuffing", this problem is no longer relevant.
In addition, the range of LG has a lot of other useful features, and its products are fully justify its price.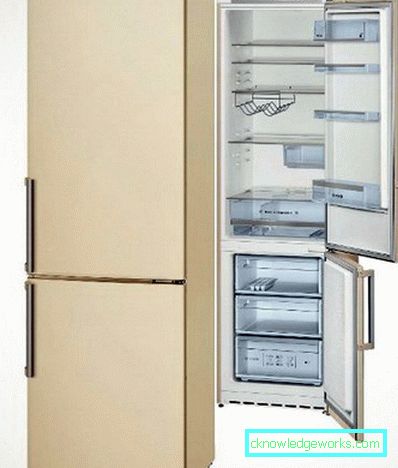 Buying a beige LG refrigerator of a modern model, buyers receive the following benefits:
no need to defrost with No Frost technology;
control of internal temperature at your discretion;
reduced level of electricity consumption (class A ++);
spacious freezer located below.
Depending on the model, LG refrigerators may have additional useful functions: a display with touch control of the internal temperature, a compartment for perishable products with a special freshness mode, compartments for bottles, LED lights, support for multi-flow cooling.
Color solutions
The surface of all modern models from the Korean manufacturer is reliably protected from mechanical damage. For painting applied paint of hardened enamel, applied on the same hardened metal body.
So regardless of the color - silver, red, gold, under black glass, golden or burgundy, scratches are not afraid of the refrigerator. Plastic materials used for pens are also designed for certain mechanical loads and protection against wear.
Coloring under beige marble looks very elegant, this option is available for many modern models.
The noble color looks a little lighter than the dark beige options, gives the room an additional portion of lightness and freedom, and increases space well. It can be successfully combined with table tops and cabinets of the same tone, although the harmony with other variants will not be broken.
The beige mirror surface is especially good for small rooms, as it visually increases the space. There is one more useful feature - due to the reflecting effect, a greater safety of the products inside is achieved. An example would be a model. GA-B489TGKR, which received the prestigious award "Product of the Year 2013". This refrigerator, besides the original colors, is also made with a creative pattern on the front door.
Coloring "black gloss" with beige stripes is not suitable for every interior. This is a very contrasting option that can be part of a chic setting in a spacious kitchen with expensive furniture and household appliances. Such options are available, for example, for "advanced" models. GA-489, GA-499.
You can also purchase the monotonous light beige version, for which there will be no problems with the surrounding furniture.
It will successfully fit into any interior, suitable for any place in the kitchen. His appearance will be both not too strict, and not too catchy in the room.
Model overview
Beige two-chamber refrigerator GA-B409SEQA will be an excellent household appliance for any family. A refrigerating chamber with a volume of 225 l and for freezing with a volume of 87 l will cope with the storage of any products for a long time. The device does not need to be defrosted, as it provides modern technology. No frost. It creates a certain temperature balance inside, the minimum amount of moisture is released, there is no thick layer of petrified ice, as in the old models. In addition, there are no unpleasant odors.
Inside, all shelves are cooled evenly, this is due to the multi-flow cooling system, which provides distributed streams of cold air. An inverter type compressor produces little noise and saves energy, the device is rated as Class A for power consumption.
Inside the fridge GA-B409SEQA illuminated by LED lamps, which, firstly, saves energy, and secondly, it allows more efficient freezing of products than with incandescent bulbs. They also emit a brighter light, and transparent shelves and partitions give greater visibility. The device is controlled by an external display placed on the upper chamber door. On it you can set the desired mode and see the existing temperature, the Russian language is provided in its menu.
The freezer compartment of this variant has 4 transparent compartments. There is a small section and ice tray. In the main chamber there are 3 shelves, 7 baskets on the door, a box for fruit, 2 bays for dairy products. All partitions are made of durable transparent plastic.
Beige version of the refrigerator GA-B489TGKR It has a main chamber with a volume of 213 liters and a freezer with a capacity of 105 liters. Its distinctive feature is the freshness zone with a capacity of 17 liters, in which you can store any products with preservation of the original taste. Another innovation is the doors of the cameras, which can be outweighed by changing the direction of their opening. It helps to conveniently plan the interior of the kitchen.
The freezer is equipped with three ordinary shelves and two decorated with tempered glass. In the main chamber there are: 2 shelves, 4 door baskets, tray for eggs, freshness zone Opti temp. Partitions are made of impact-resistant glass. So the complete set of the unit looks quite impressive.
From the useful features of the model LG GA-B489TGKR can be noted:
technology without defrosting No Frost;
fast freezing technology;
Led display lock settings;
door horn beep;
intelligent diagnostic system;
multithreaded cooling.
Refrigerators LG GA-B489TGKR have a relatively low noise level of 40 dB and an economical energy consumption class A ++.
Model LG GA-B499YEQZ It has a main chamber with a capacity of 256 liters and for freezing with a capacity of 105 liters. So the total capacity is slightly larger than the previous version. In this case, the dimensions remain the same. It should be noted that all partitions, trays and drawers have a metal frame.
In a refrigerator LG GA-B499YEQZ 2 zones of freshness are provided, a special device Most balance crisper to provide the most appropriate level of humidity, a system of protection against bacteria, a "vacation" mode, and even support for Wi-Fi wireless networks. Other useful features remained from earlier models: door open signal, display lock, multithreaded cooling, express freeze.
This model has a slightly reduced noise level of 39dB, power class A ++. LED lamps inside help to reduce power consumption and increase effective work. To control the used Led-display, located on the outer part of the upper door.
Glass door refrigerators are most often used in shops and cafes in order to demonstrate the range of goods to customers. The visible interior of such units should be in perfect order, they are rarely bought for home use. Nevertheless, there are options with three or even four cameras, one of which has a transparent door. Such devices include, for example, LG InstaView Door-in-Door.
The door-to-door technology is used to store bottles of beverages, cocktails, cakes and other beautiful dishes.
The compartment with a transparent door is supplied with LED illumination. When opening, warm air does not flow inward; such chambers are most often equipped with an air filter and a device for circulating fresh air. Refrigerators with a transparent door LG InstaView Door-in-Door have a high cost, for everyday household use, many families will not afford them.
Reviews
Of the disadvantages of LG refrigerators, only the predominantly high cost is noted.
There are practically no complaints about performance and reliability. The equipment is valued for trouble-free operation, a guarantee of the stated additional features such as express freezing, the Opti Temp freshness zone, No frost technology, and the "vacation" mode. In general, the reviews recommend GA-409, 489, 499 models for successful and durable use in the family.