Since antiquity, people have known how different shades affect the overall condition of the body, mood, and well-being. The methods of influence were actively used both in everyday matters and in public affairs. Color therapy has been actively used by modern psychoanalysts to combat depression, fatigue, and irritability. Scientists have found the cause of such exposure. It turns out that each shade has its own radiation, and electromagnetic waves of different lengths have a different effect on a person.
Today, the methods of color therapy are actively used by designers in the development of interior space. The right combination of colors is an art that allows you to create the conditions for comfortable living indoors. If we are talking about a residential house or apartment in a high-rise building, it is especially important to design the bedroom. After all, this is a room where a person must rest, sleep well, recuperate for further exploits.
How to choose the color of the bedroom
The bedroom is a place where it is important to feel a state of comfort and peace. Therefore, when the question arises, what color is suitable for the bedroom, it is best to be guided by their own preferences. For example, if brown color causes melancholy and depression, you should not use it in a room for rest, no matter how popular modern designs in these colors are popular. There are plenty of other options that will help you relax and gain strength.
But to listen to the advice of designers in any case be useful. Specialists in this field know how to choose the right combination and place accents. Various techniques will help to visually correct the deficiencies of the room, make the room bigger and lighter.
Before you choose a specific color scheme, think about what you want to get in the end.
Warm, muted shades contribute to a good undisturbed sleep and complete relaxation. If it's hard for you to wake up in the morning, add lemon-yellow color to the interior. This will help get a boost of energy as soon as you open your eyes.
Single bedroom is suitable for lovers of stability and tranquility. But do not make all the elements of the interior absolutely identical. It is better to use 3-4 shades of one scale, for example, lime - green - olive.
To help diversify the look of the room will help small patches of additional shades. But when it comes to the bedroom, the contrast between neighboring colors should not be too strong. It is enough to add a few beige accents to the turquoise-blue room, and to add purple blotches to the gray scale, and the room will play in a completely different way.
If you plan to give preference to several colors, you must first carefully study the rules of their combination. In the bedroom there is a feeling of diversity, but not contrast, as bright color transitions affect the psyche excitingly.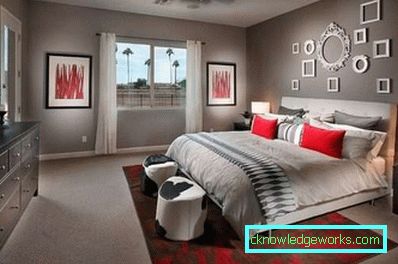 Although in some cases the variant with "screaming" color transitions is also admissible. This is possible if we are talking about active dynamic people or a young couple. Designers offer combinations such as blue with orange or yellow, lime green - fuchsia, gray - bright red.
Color psychology
Below is a short list of which colors are best for decorating a bedroom. Each of them has its own characteristics and differently affects the sensations. Whether to listen to the opinion of experts or not is an individual matter. But to study the information of psychologists is not superfluous.
green shades - soothing colors for the bedroom. They help to relax, relieve stress, suitable for people whose activities are related to mental work;
blue, turquoise, blue colors contribute to quality rest after exercise and help cope with irritability;
yellow shades - the best charge of cheerfulness, create a feeling of warmth, joy, lead to the tone of people prone to depression and melancholy;
The orange color is similar in properties to yellow shades, but its effect is more aggressive and energetic. If we are talking about the bedroom, you need to use it very carefully. A large amount of orange can create a pressing feeling. Do not make such walls or choose orange curtains and bedspreads. A pair of cushions or frames for a photo will be quite enough to set the mood;
red color has stimulating properties, a large number of bright elements can cause increased anxiety and anxiety:
purple color is often used in the decoration of the rest room. But with its excessive amount or the wrong combination can cause discomfort and immersion "in itself."
beige color has a calming effect. In combination with warm peach or light green tones it creates a wonderful atmosphere for relaxation.
Let us dwell on the two most preferred colors.
Blue bedroom
Blue - a symbol of purity, freshness and coolness. Bedroom decoration in blue shades is popular among leading European designers. The rooms are light, airy, very light.
Advantages of a blue bedroom:
delicate shades contribute to relaxation, relaxation, quality sleep:
the room seems more spacious and lighter;
Blue, according to psychologists, is the color of fidelity. The bedroom is ideal for a married couple, as you always want to return to it.
The combination of shades in the blue bedroom
The most common solution is the white and blue interior. Such a bedroom always creates a feeling of cleanliness and order. But at the same time the room often turns out to be restrained and "cold."
No less popular is the blue ensemble with beige, milk or cream. With this combination, all the advantages of the previous version remain, but the interior looks warmer and more comfortable.
Gray-blue lounge will be pleasing to the eye, if you add a third shade. As an additional color appears white or very light beige. This combination looks laconic and elegant.
The brown-blue room for recreation seems to recreate the atmosphere of the 80s. This natural combination of heaven and earth causes a feeling of stability and tranquility. It fits perfectly in brown-blue interior with vintage furniture and retro-inspired décor. Do not use this option in a small bedroom. A deep noble brown shade can visually reduce even more free space.
Blue and yellow. The colors harmonize well with each other. In the bedroom, made in yellow and blue shades, there is always a good mood and sunny heat. Yellow color does not irritate the eyes and does not provoke excessive vigor. Nevertheless, this is a great option for melancholic people, which will help to charge a positive for the whole day.
Green and blue bedroom. These two harmonize well with each other. But to create a comfortable room, it is better to add another third neutral shade (usually white, beige or light yellow). So it turns out a nice looking summer palette, reminiscent even in the cold season of warm sunny days.
Ideas for decoration
Choosing a bedroom in blue shades, you can create different thematic areas. For example, sea style is a wonderful variant of a room where it will always be pleasant to fall asleep and start a new day. The atmosphere of the warm coast will help to recreate the blue and white stripes on the wallpaper or textiles, accessories and photos on the marine theme.
Another option - reserved "winter bedroom". Silver-white accessories will help create a cozy but discreet design. Snowflakes on cushions, pictures with a winter landscape, a bedside rug made of fur will add a highlight to the simple interior and make the bedroom more comfortable.
Beige bedroom
Beige color can be the basis for almost any room. Depending on the combination with other shades allows you to create completely different rooms. Shades of beige are never "screaming", they are always pleasant to the eye and do not put pressure on the psyche.
Benefits of a beige bedroom:
neutral color creates a comfortable atmosphere in the bedroom, regardless of the season and the size of the room;
beige shades - a great basis for further finishing the room. Depending on the complementary colors and correctly placed accents, it makes it possible to create almost any style in the interior;
beige color has a calming effect, which has a good effect on the quality of rest and energy recovery;
In the bedroom, where the base is beige, you can add any shades. Beige combines with all colors, but never interrupts them.
Color combinations in beige bedroom
If you want to create a neutral room where the atmosphere of stability and peace will always reign, it is recommended to stay in the monochrome version. In the design of such a room should be used several harmonious beige shades without the addition of contrasting and bright details.
Sometimes a few brown elements are added to the monochrome interior. This room is more saturated and textured, without losing restraint. In order that brown color did not interrupt the main background, its quantity should be minimal. Drawing on curtains or wallpaper, a pair of pillows, lampshade or trim on the bedspread will be quite enough.
Beige-red bedroom. Suitable for a young couple. This combination evokes passion and a storm of emotions, encourages activity. Red color may be present in textiles, lighting fixtures, decorative wall panels.
The combination of beige with green or blue is a successful combination. The atmosphere in this bedroom turns out to be cozy, peaceful and relaxing.
Beige-orange bedroom will be a great solution for melancholic and people prone to depression. The only condition - the orange color should not be too bright and saturated. It is better to give preference to muted shades.
The bedrooms look good, where lavender, pistachio and pink colors act as a beige partner. The design principle remains the same. The main task is to ensure that bright colors do not interrupt the calm neutral background, but only correctly emphasize the chosen style.