The interior of the children's room requires a more rigorous approach to the safety of furniture and all materials used to finish the floor and walls. Thinking about a safe space, you should not exclude practicality of design and beauty. Children like the brightness and the ability to play, soft floor for children's rooms will be a good choice for the nursery. Puzzles can be simple decor or tutorials with many details, numbers and letters. Such material retains heat well and is absolutely safe for children.
Stylish and bright soft floor protects against bruises, pleasant to the touch and very warm
What is EVA
Before we talk about the advantages of soft coating for children's rooms, it is worth first to decide what material it is made of. Evaplast is a novelty in the industry of finishing materials, it is successfully used not only in children's rooms, but also in office buildings and other premises.
Rugs, puzzles appeared relatively recently on the market, but have already gained immense popularity
Evaplast is made on the basis of foamed rubber, a natural environmentally friendly material. The resulting foaming texture is valued, including, as orthopedic material. Thanks to the rubber in the composition of the soft floor are flexible enough, and the elastic structure allows for a long time to hold any shape.
This mat is perfect for a children's room at home, and for a children's corner in any institution.
Evaplast is used not only for the decoration of a children's room. It is actively used in medicine, for the production of special orthopedic shoes, sporting goods, etc.
EVA polymer material
The main advantages
EVA is a flexible polymer, safe for children and adults. It is characterized by flexibility, elasticity and softness, due to which it is becoming more and more popular abroad and in Russia. Soft floor has many advantages over other types of flooring. Here are the main advantages of soft floor for a child's room:
Thanks to convenient grooves easily and quickly gathers in a cloth of the necessary size;
The seams are not required to be additionally sealed or bonded using glue;
Soft floor does not emit toxic substances in the nursery, does not have an unpleasant odor, characteristic of some types of polymers;
There is no need to fix the coating on the floor with glue;
All elements of a soft floor are easily bent if necessary;
Unlike carpet, evaplast does not collect dust, which makes it indispensable in a children's room for toddlers who are prone to allergies or respiratory diseases;
Soft floor is easy to clean, the coating does not deteriorate from water;
Evaplast is an excellent sound insulator, which is convenient if you do not live on the first floor;
Bright coloring of a soft floor for a nursery does not burn out under the influence of an ultraviolet;
Children's paints and plasticine are easily rubbed off and removed from the coating;
Soft floor retains heat, it's nice to play on it;
The coating is not traumatic, and therefore an excellent choice for arranging a play area in the children's room;
Evaplast does not slip;
The soft floor is resistant to various damages, on its surface there are no marks from the claws of domestic animals, as well as dents from furniture or marks;
If necessary, the coating can be easily removed from the floor, and it can be transported to a new place in the usual package;
Soft floor can be quickly collected on the grass outside the city, without fear that the baby will be bitten by insects or he will step on something sharp;
Any surface is suitable for coating; the base need not be perfectly flat.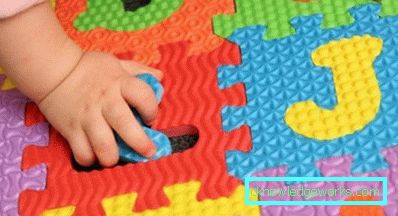 Soft floor is an excellent educational puzzle for kids
Important! Despite the strength of the soft floor is not suitable for a sports corner, also it should not walk in outdoor shoes - the coating will wear out faster.
Not less important property of a soft floor for the nursery is its ability not to absorb moisture, it is especially actual for absolutely small children. Due to its water-repellent properties, the coating does not absorb water, dries quickly, as a result there is no unpleasant odor and the risk of mold.
Soft puzzles are very easy to care for.
Types of soft coating for children
Every detail of such a rug is a puzzle. They can be of different shapes and sizes, but the principle remains the same. Mosaic is not only a beautiful element of the nursery, it is also an exciting game, educational tool that helps the child develop.
Soft floors are made of soft elastic material that keeps its original shape for a long time.
To make children more interesting, each module is marked with numbers, letters of the alphabet, figures, etc. It can also be an imitation of the road for learning the rules. Different types of images are designed for children of different ages. Each series has an age limit of 2-5 years, 6+, there are also rugs for schoolchildren and teenagers.
Up to 1-2 years
Such babies are primarily important characteristics such as the softness of the coating. The modules of such a children's rug are rather large, there are no small parts in them that a child can reach and swallow accidentally. Emphasis is placed on safety and brightness of colors.
2-5 years
At this age, the child gradually learns the world, so the alphabet with numbers and geometric shapes is the most appropriate image. Older children will enjoy puzzles with animals, plants, cars, etc.
Soft modules are not necessarily used only as a floor covering, of which you can build houses, locks, cubes and boxes, and the ability to easily change puzzles in places allows you to quickly diversify the decor of the children's room. In addition, it is a great entertainment for the child.
Pupils and teenagers
Soft floor can be used for room decor and older children. In this case, he no longer carries any training or entertainment function. Evaplast plays the role of ordinary flooring, and bright colors are becoming more restrained. The texture of the modules can be complicated, for example, puzzles with a pile, which are not appropriate for younger children, look spectacular.
Mounting methods
Evaplast is easy to install because it is easily assembled as a mosaic. For convenience, on the corner of every detail there is an arrow indicating the direction. Just be careful when assembling. Ways of installation two - dry and glue.
Important! As a substrate, it is better to choose laminated plywood or OSB.
Dry mounting
This method is more mobile because it allows you to easily disassemble the soft floor and transport it to a new apartment or cottage. However, a dry base requires a perfectly smooth base, due to which the durability of the soft floor will be higher. The styling process:
Place the puzzles on the floor, following the direction, and then gently connect them;
Spliced ​​carpet a little stretch;
Secure the cover around the perimeter with a curb or plinth.
When choosing a dry installation for a soft floor, make sure that there is a gap of at least 2 cm between the edge of the curb and the walls. And to keep the carpet tighter, use double-sided tape glued to the back of each module.
Glue mounting
Using glue when laying a soft floor, you can provide a more reliable fastening of the coating, as well as increase its strength. For laying it is most convenient to use glue based on polymers, the same solutions are used, for example, when installing linoleum. The glue is diluted strictly according to the instructions; a soft roller is used for application. How to lay a rug:
Divide the floor surface into four parts. This is done very simply, just mark the middle of each wall, and then connect the opposite points.
When laying the modules, make sure that 1⁄2 of the castle connection goes beyond the line. This is necessary for more convenient installation of new puzzles.
Once all the parts have been laid, run a soft roller on the floor to roll it for better grip.
When the glue is dry, you can proceed to the mounting plinths. The curbs will additionally fix the cover, as well as close the joints.
Original styling method
Even if you purchased the simplest soft floor, you can diversify it. To do this, you need to purchase material twice as much as necessary, and then there are several different ideas:
Divide all modules into two equal parts.
Turn one half into honeycombs by cutting holes in the center of any shape that you like.
Empty recesses can be filled with anything - soft fabric balls, sea pebbles, etc. It is only important to fix all the details with glue.
Instead of honeycombs, you can cut volumetric shapes by sticking them onto the base surface.
By connecting to the business of your imagination, you can create the most unusual options for soft floor. The main thing to avoid small parts, if the child is still too small.
How to care
It is very simple to keep track of the soft surface of the children's room:
Take off your street shoes, you can only walk barefoot on this floor or in slippers;
You can wash the evaplast using a sponge with soapy water;
To maintain cleanliness, it is enough to clean every 2-3 days.
Proper care will ensure a long life for the new soft baby cover.
Baby mats are not in vain, they gained great popularity, it is really deserved. The soft floor is safe, easy to clean, it decorates the interior, and the puzzle game is interesting for young children.
Video: