How to make the interior in pink, so that it does not look like a children's room?
Designers successfully use pink in creating attractive interiors. This color has a rich palette of shades: warm and cold, saturated and muted, bright and light. The correct choice of tone or its combination with other colors will allow you to create a unique look of the room and fill it with the desired mood.
Photo: bedroom for a girl
The advantages of the most "feminine" color
Features of the use of pink in interior design
Win-win combinations
Life in pink
Attitudes toward pink in different people range from absolute rejection to complete adoration. First of all, this color is associated with femininity, tenderness, even some "dollness". For this reason, many men dislike pink color. In addition, psychologists argue that pink color causes rejection in pragmatic people who are guided in their actions by reason, and not by emotions.
More than others, different shades of pink are loved by enthusiastic and sentimental dreamers, glamorous beauties, sophisticated and romantic girls and ... mothers of little girls. Looking at the photos of the interiors offered for little princesses, you can easily notice that the prevailing color is pink in all the variety of its shades. Pink color is very appealing to kids, but teenagers often can't stand it.
Photo: living room in the style of minimalism
Photo: Pink Dining Chairs
The advantages of the most "feminine" color
Pink, like all other colors, has a certain psychological effect on a person and is not equally perceived by people, depending on their gender, age, character, and even state of health. All this must be considered to create a favorable environment in the house. What are the features of pink?
It creates a feeling of lightness and carelessness. In the rooms, decorated in pleasant pink colors, I want to escape from unpleasant thoughts, relax and dream.
Reduces the level of aggression and sets people in a benevolent mood. This effect can achieve delicate and light shades of pink.
Bright pink shades stimulate activity and fill with energy. These tones may be unfavorable for people with high blood pressure, as they cause rapid heartbeat.
It is noticed that the pink color makes you want to eat something sweet. Manufacturers of cakes and other sweets use this, putting them in pink packages. This quality of pink color should be considered when designing the kitchen, dining area or dining room.
Features of the use of pink in interior design
In general, pink color will harmoniously fit into the interior of any style: classic, modern or retro.
Tip: very original and unusually pink color will look in the oriental style of the interior. In this case, the pink will not seem to be "vanilla" and cloying, but it will acquire heat and brightness, or refinement and charm.
Pink color may be appropriate in the interior of any room in the house. The main thing is to choose a suitable shade and its combination with other colors.
The most popular pink color rightly enjoys in children's rooms for girls. In the corner of any little princess there are sure to be details of pink color: a blanket, a soft toy, a dollhouse or a frame for a photo.
Children's room is a place not only for games and activities, but also for rest and sleep. Therefore, flashy and catchy colors here will be superfluous. Do not get too carried away with bright shades of pink. Peach shades are well suited for children's bedrooms. If the room is very sunny, it is better to choose cold pink tones.
Photo: room for a newborn
If the pink color will dominate in the living room, it is better to prefer muted gray-pink tones. In addition, the pink color is perfect for color accents in the room, and its combination with other colors will make the interior more fresh, bright and original.
Lovers of pink can certainly decorate the bedroom in their favorite color. Pink color brings a special comfort to the room for sleeping and as if envelops you with warmth, peace and serenity. If we are talking about a matrimonial bedroom, here it is necessary to take into account the tastes of both spouses and look for a compromise in color design.
Tip: using pink color in the interior, remember the sense of proportion and taste. Excess pink can create an impression of sweetness and closeness. Therefore, it is better to combine pink with other colors so that its freshness and cheerfulness can be fully manifested.
Pink color may well be used in the kitchen. If this is a kitchen in vintage or retro style, it is better to give preference to delicate pink shades. Bright pink color is applicable in the interiors of modern style. Dishes or decorative items of pink color will become the "highlight" of your kitchen and will create a cheerful and bright mood.
Pink color is perfect for a bathroom, and with a predominance of blue hues will make the bathroom cool, and warm colors, on the contrary - warm and cozy.
Photo: a combination of pink and blue will fill your bathroom with coolness.
Pink color in the hallway, where there is not enough natural sunlight, looks very advantageous. Pink tones as if fill the hallway with light and make it cozy and hospitable.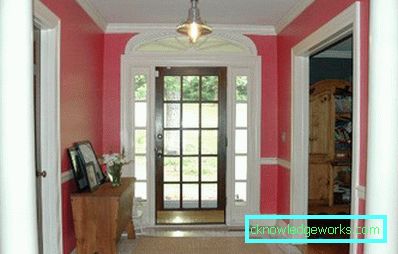 Win-win combinations
Pink color perfectly harmonizes with many other colors, allowing you to create a variety of interesting combinations.
Tip: Pay special attention to the choice of materials. Matte pink surface in most cases look better than glossy.
The combination of white and pale pink is very fresh and beautiful. However, the bright pink color on a white background becomes even brighter and can be annoying with its catchiness. The same can be said about the combination of rich pink and black colors.
Beige or cream, on the other hand, makes pink more calm and creates an impression of simplicity, restraint and elegance.
The combination of pink and gray is noble and refined. This color union is peculiar to some coldness and at the same time refinement and perfection.
In combination with green tones, the pink color in the interior creates a fresh, rainbow, spring or summer mood. Flower drawings in the decoration of the room, made in pink and green tones, are an integral element.
Pink can be combined with blue, but this combination is peculiar to some childishness. This combination would be quite appropriate in the nursery for a little girl.
The combination of pink and brown is quite a spectacular combination.
Different shades of pink can also be combined with each other and get interesting color combinations. In addition, pink looks great with some shades of red or purple. So, the classic pink color can be combined with crimson, burgundy or cherry, and the lilac-pink shade will make a successful combination with purple, lilac or lavender flowers.
Finding the perfect combination is not always easy. You can discover interesting ideas by looking at photos of interiors illustrating combinations of colors. And working on the interior of your own home, you need to follow the harmony and harmony of color combinations.