Secrets of the harmonious use of red in interiors
One of the most emotional, bright colors that can have a strong psychological effect on a person is red. It can cause irritation, depression, or, on the contrary, to charge with energy, but in any case it will not go unnoticed, therefore it is necessary to use red color in the interior with caution. It is best to use it as a light focus on the individual elements of the room.
Despite all the dangers lurking in this color, he is a favorite with many designers. With it, any, even the darkest room, can be turned into something special. The most important thing in the design is not to be mistaken with the appropriate shade and to combine it with those colors with which the red harmonizes. This color is great for various places of recreation, clubs, gyms, it also fits well into the interior of residential premises.
Photo: competent combination of red and black will help you add originality to the interior of the room.
Shades of red and their combinations
The use of red in various rooms
Strengths and weaknesses of red
With a long stay in the room where red is dominant, the human psyche is subjected to stimulating action. Especially negatively it can affect hyperactive children and unbalanced, nervous personalities. They may be covered by a gratuitous feeling of anxiety, irritation. In addition, a room decorated in red may look much smaller and lower than it actually is. Pure red and its bright rich colors create the effect of approaching walls. This property must be considered when thinking through the color scheme of the room.
At the same time, the red color in the interior, used in moderation, is capable of energizing, cheering up, bringing a sense of celebration. Its shades such as crimson, burgund, bordeaux will create a festive atmosphere, so they are often used in theater or concert halls, other rooms where holidays are held.
Tip: If you want to create a unique stately interior, the use of red will help you with the implementation of this idea. Gold colors and elements of natural wood will add chic and luxury.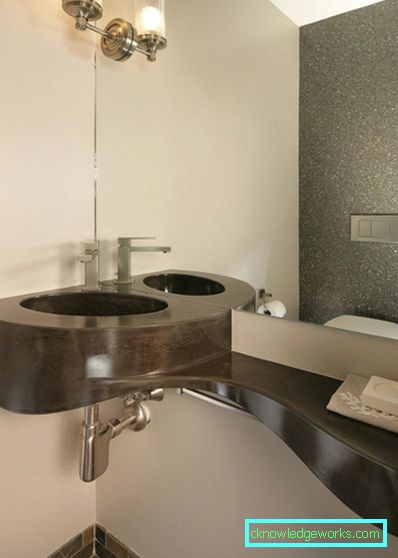 Shades of red and their combinations
As a rule, when it comes to using red, it means not pure scarlet color, but its shades. And he has a huge number of them:
Light pink;
Purple;
Maroon;
Terracotta and many others.
Natural berry or red-sand shades are suitable for the design of offices, warm red-brown and red-yellow - for the halls, chimney rooms. For the children's room, where the girl will live quite often use pink tone.
The noble red color is very often used in combination with white, which perfectly softens its aggression, expands the space and refreshes the room. Harmoniously in this combination fits and black.
If the room needs to be charged with energy, a mixture of orange or yellow and red colors close to it will help. Quite often, this combination is used in the design of living rooms.
Unusual and spectacular looks room, decorated in green and red color. Strong contrast is weakened by the use of soft shades of these colors.
The combination of gray and red looks beautiful and harmonious.
There are also such combinations of colors that are rarely seen in the interior. For example, blue or blue and red. According to many designers, it is better not to combine warm and cold shades, which is why very few people use such combinations, as well as pink and red.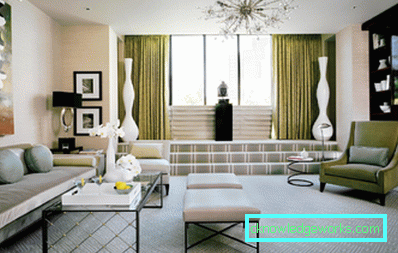 Photo: glass table will be a great solution for small rooms.
The use of red in various rooms
As mentioned above, the red color in the interior can play both a positive and a negative role, so it is quite difficult to decide on its use, especially if the conversation is about the kitchen or bedroom. When choosing, you need to build on what is your priority. You want to breathe life into the room, saturate it with energy - do not be afraid and feel free to use red, which will accelerate the steady flow of life, make you do everything faster, even wake up in the morning. And if you want peace of mind - discard this idea.
The hall, decorated with the use of red, will announce the owners of the house as confident and bright people. At the same time properly selected shade will not cause irritation, but only emphasize the presence of good taste.
Tip: if the hallway does not have a large area, the "color of passion" is better not to use, in order to avoid pressure, except as small decorative elements.


The interior of this room, decorated with the use of red hues, is quite common and is a good solution. Decorated in combination with warm cream, brown, beige and other shades, the kitchen looks warm and cozy. It is also known that red color improves appetite, and if you add to it such a delicious chocolate or creamy hue, this effect will be at least doubled.
An interesting option would be made in red tiled apron or inserts on the facade of kitchen furniture.
Photo: tiled work apron
Photo: LED ceiling lights in the interior of the red kitchen
The living room is the room where all the owners and guests of the house should feel comfortable. Therefore, it is not recommended to abuse this color in the design of this room. You can make a bright focus on chairs, carpets, curtains and other elements in combination with the basic pastel tone.
For a spacious room with high ceilings, you can use a rich dark, but dim shade of red when decorating walls. In combination with a fireplace and windows of impressive size, the room will look like a king.
Photo: living room, decorated in red, in combination with a fireplace and windows of impressive size will look like a king
Red color in the interior of the bedroom can add passion to privacy. For many nations, this color is a symbol of love, therefore it is an excellent color solution for the design of this room. A bright bed will help you wake up in the morning, while it doesn't hurt to fall asleep quickly, since in the dark such invigorating color is imperceptible. If there is a fear that this color will quickly get bored. Use it in the decoration elements:
curtains;
cushions
pictures;
candlesticks;
covers, in everything that can be replaced with ease and without regret after a while.
When decorating a children's room, it is better to refrain from the use of scarlet shades to avoid excessive excitement of the little ones. In a room where a calm, melancholic child dwells, prone to sadness, you can add a bit of terracotta or sunny red-orange color to improve your mood.
Choosing a room design in red, do not be afraid to experiment, combine, try. When making a decision, the main thing is not to forget that the determining factor should remain a sense of proportion and taste.
In order for the interior to look harmonious, use only one red shade when making the design, then it will be able to fully open.