Create a modern interior in the style of Provence
Among the features of the design style Provence should be highlighted: - pastel shades; - lightness and weightlessness of curtains; - the elegance of the furniture; - The presence of light finish in the decor; - decoration with living plants; - fabulous and original patterns; - a variety of quilling and embroidery; - The originality of the forms of trinkets, textiles, dishes.
Photo: bedroom in the attic
Provencal furniture
Color solutions of Provence
Designer Accents
Provence style ideas
Provence style color combinations
Features flooring and walls
A Provence style room needs to be painted more than with wallpaper. It is very important to create an interior of the room with your own hands, sufficiently illuminating the room, saturating it with bright colors and naturalness. Remember that finishing with natural materials is highly valued not only by designers, but also by clients, among whom are ordinary people. The interior of the apartment in Provence style should be sunny, bright, stylish. In appearance, it should resemble the old days. If you prefer to create the effect of roughness of the walls, make the decoration of the room whitewash or old faded colors.
Provencal furniture
Furniture design in the style of Provence should be not only functional, but also decorating. Outdated painted furniture in the new interior should create the look as if it has served more than one generation. Suitable for chairs and armchairs with carved peeling off legs, antique chests of bright colors, bright cabinets for kitchen utensils, antique photo frames.
Of the tree species for the manufacture of Provencal furniture will be very useful nut, oak, chestnut. Painted fronts should ideally be "worn". In order to achieve naturalness, wooden surfaces specifically "age out", imitating antiquity.
In the Provencal style of the modern interior are welcome things whose age has exceeded dozens of years. This antique watches and dishes, and textiles. It is customary to place a large, antique chest of drawers with a "battered" finish in the center of the largest room, since pieces of furniture with faded paint from old age are valued as family heirlooms.
Photo: floor tiles
Color solutions of Provence
The Provence style interior should be rich, but by no means bright. It is better to choose a harmonious discreet shades.
Aged shades of pastel shades such as ocher, olive, terracotta, white, lavender are welcome. Also for the interiors of the Provence style suitable yellow-blue and soft pastel combinations. Sea shades in a small amount should be reflected in the design of the room. The right decision is to apply all shades of blue in the interior in the form of decorative trinkets (for example, fishing nets, sea stones). The most suitable sea palette for bathroom design.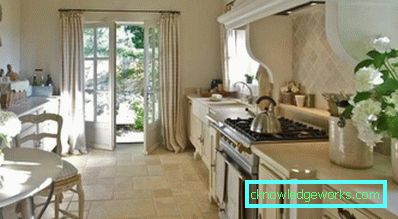 Photo: nautical style bathroom
Designer Accents
It is important to decorate housing with various flowering plants. They can be placed in pots, pots on window sills, or they can be used as photo images on finishing materials for walls (tiles, wallpaper).
The presence of lavender, rose, and alfalfa colors in the house amazes with its originality.
Ceramic and textile products must be present floral patterns. Houseplants are highly valued in design.
It is recommended to use as a decoration textile material with applied original ornament, images of animals and nature, patterns. In the decor it is advisable to use forged items, made in black and white colors. Forging should not be massive. Best of all, if it is weightless, fanciful, refined.
Forging you can finish the back of the bed, flower pots, wardrobes for things, framing photos. Forged lamps will add color to the room. Pottery can be used as a highlight in creating the design of the kitchen interior.
There is a widespread opinion about the centuries-old creation of Provence style. Far from it. Many parts used in modern interiors are successfully made by craftsmen. It is worth trying to create something similar with your own hands. After all, Provence style in the interior is a reflection of the quality of your life.
Photo: light curtains emphasize the features of the Provencal style
Photo: fresh flowers in the Provence style living room interior
Provence style ideas
Most people living in cities, dream to live at least some time in the village. Some of them manage to achieve the goal and create a similar design with their own hands.
Often the style of Provence in the interior is called country. It has many varieties. The difference between these varieties is determined by the country that the owner of the dwelling intends to imitate. When it is planned to display in the design traditions of France, after registration the room will be called "Provence-style room". Such a name this style has received from the sonorous name of one of the famous French regions.
If we look at the Provence style in the interior in more detail, we can define characteristic associations not only with rustic and classic styles, but also with leisure facilities. It combines both sea, and solar, and beach motives. The main difference of this style is in a large number of floral shades. As decorating elements it is recommended to use original accessories. You can arrange furniture aged fabrics. It will look good wall decoration faded paint.
Provence style color combinations
The Provence style room is decorated in calm tones (wheat, beige, pale blue, white, olive). All colors should be chosen so as to create a sense of tranquility, peace and comfort like a village. Dark and dark country style should not be. Wall decoration is simple, with a predominance of bright colors, for example, white.
Provence style in the interior does not welcome the use of wallpaper as a material for covering walls. A practical solution is to do a rough plastering application.
The walls in Provence style should resemble the village, but not be decorated with fashionable paints and materials.
Tip: make the upholstery of the walls with wood, then - paint with inexpensive paint, imitating antiquity. So you will create an interior with your own hands.
Specialists who create Provence style in the interior, prefer to use white color as an accent. If you arrange, for example, a kitchen in a similar style, then the walls will need to be decorated with natural materials in the form of a brick or stone. Upon completion of the finish is required to have a coating of light paint.
Photo: children's room in Provence style
In the living room floor should be trimmed with a board. You can paint it with light brown or dark brown paint. If you plan to replace the floor in the hallway or in the kitchen, then it is important to trim it with tiles of similar shades. In case a tile or a board is expensive for you, replace the flooring with a laminate imitating the board.
As for the ceiling, it should be only light. Of course, decorations on the similarity of dark-painted wooden beams made with our own hands are possible. This custom color palette is used to create the desired contrast.
Interior doors are preferably painted with white paint. Do not forget to patinate the outer surface. So you will perfectly convey the room features of country style.
Tip: Give spectacularity to the room, creating a smoky effect. Best of all, such a reception will look in the kitchen. But for the bedroom is also suitable. Try experimenting!
Windows require special decoration. The ideal design option is to finish the window opening white from floor to ceiling. Successfully look obreshetka glass. When ordering metal-plastic windows, choose the color "under the tree". Drapes with light-colored textiles are welcome (can be with a small floral pattern).
Do not do without tulle and curtains on the windows. Prefer weightless fabrics. Be sure to have on the windowsill of fresh flowers.
Tip: choosing furniture, give preference to the execution of wood. Since antiquity is important in the interior, select hand-forged furniture either from wicker. Of course, this method will be much more expensive in terms of cost, but the result is excellent.
Since the delicacy of the decorative elements of the furniture fills the room with romanticism, the interior is clearly welcomed with the brushed paint, scuffs and antiquity.
When choosing accessories, give preference to mini-cushions for furniture, decorated with pillowcases with an openwork pattern. On the tables place forged decorative items. These elements will emphasize their lowness. It is recommended to arrange window openings with accessories woven from a rod and balls not intended for decoration.
It is not recommended to use wardrobes. It is better to choose a comfortable roomy tables, dressers, cabinets. Be sure to have a massive round table. It is allowed to issue the front sides of the doors and furniture with a flower ornament. The same painting can be used in upholstery furniture. Original furniture will look in scarlet tones. Such color palette is the highlight of Provence style.