What should be the hall in the style of Provence?
A simple and cozy Provence style was born in the south of France, in small village houses. The French have always been connoisseurs of true beauty. Apparently, this is why this style is still so popular even in the design of apartments in modern metropolitan areas. Its interior assumes gentle tones, slightly worn furniture and only natural materials of decoration. As well as possible, it is suitable for a hallway, which should meet guests with dignity and show that here they can feel at home. Let us examine the points, what should be a hall in the style of Provence. For starters, you can get acquainted with several design photos of different rooms, allowing you to tune in to its atmosphere.
Photo: the presence of dried grass tufts is very characteristic of the Provence hallway.
Finishing: walls, floor and ceiling
Features of the choice of furniture
Provence decor
Color spectrum
Provence is famous for its meadows stretching beyond the horizon, in which lush greenery and bright wildflowers contrast. The interior here, on the contrary, allows to have a rest from the saturated shades. In priority - pastel shades of various shades. These are mostly bleached colors: pale blue, cream, lemon-white, light olive or light lavender. The leader among them is just white. In such an interior there is no place for contrasts, only "accents" in the form of green, orange, pink, blue or brown elements, be it any furniture, doors or frames for photographs.
Photo: slightly worn furniture in delicate shades in the interior of the hall
As for the hallway, the Provence style will most likely be a good addition to its interior, because hallways are often deprived of light sources, so that to some extent this can be fixed by using pastel colors in the design.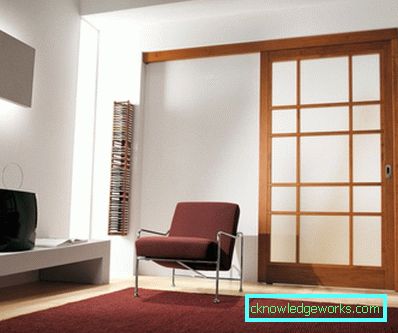 Finishing: walls, floor and ceiling
Only natural sources are welcome as facing materials: wood, stone and the like.
In the design of the walls should not be paper wallpaper: then it will not be a provenance. Usually they are painted or decorated with boards painted in pastel colors, more often it is white or milky. For the hallway this would be a great solution. You can also experiment, laying walls with stone or brick, not forgetting at the end of the light paint. Simple plaster, also acceptable in this style, is hardly suitable for a hallway, because in an already dark and often small room with a minimum of furniture, it will make the interior gloomy and cold.
Provence style floor deserves only the best materials. Natural wood will be most welcome here. You can also use tile or masonry. At the same time, it is important to remember about the effect of antiquity: boards will be slightly worn, and stone and tile will be uneven, as if trimmed with time in corners.
The ceiling is necessarily white. In the hallway beams, often used in other rooms, will be uninvited guests, visually weighting the room. Perfectly whitewash or plain white, cream or milky paint, as well as the design allowed the most whitened shades of blue, green, yellow or lavender.
Tip: It will be interesting to look hallway, fully decorated with wood. This will help create an atmosphere of a kind of "cabinet." The wall boards and the ceiling will be painted white, and the floor will be aged and slightly faded oak panels.
Photo: the walls of stone in bright colors in your hallway emphasize the features of style.
Features of the choice of furniture
The effect of wear and scuff in Provence style is usually clearly visible on the furniture. It will be present on the facades and legs, and even on the table tops in the form of scuffs, roughness, cracks and bald spots. And although for the hallway a lot of furniture is not required, still it is worthwhile to take care of following certain rules.
The main thing with which the hall begins, is an entrance door. It is necessarily made of wood (and the interior of the door, which is upholstered with wood, is suitable for a simple apartment). The color is either pastel or slightly bleached blue, crimson or olive.
The interior simply must be present forged items. The hallway will be decorated with a mirror framed by hand-made wrought iron. Also this motif can be used in door handles, key holders, shelves and coat hangers.
Provence will not tolerate massive cabinets. A light chest of small height made of wood and reflecting the spirit of the good old times will fit perfectly into the hallway. Its design can be done in soothing cheerful colors.
An integral attribute of Provence style in the hallway will be a small but comfortable sofa. It will be made of wood or wrought iron, painted white or left intact. On top will be located several pillows, upholstered in flax, cotton or chintz with a small floral pattern. Flower motif can be reflected throughout the interior, for example on other elements of furniture.
Provence decor
This style loves a lot of cute, but completely useless decorative elements. These may be small cheerful knick-knacks:
vases with wildflowers;
forged figurines;
old empty photo frames;
dried grass tufts;
candlesticks, etc.
Various decorative "things" characteristic of Provence style can be seen in the photo below.
So, we can not say that the style of Provence is suitable for everyone. Such design will be accepted and loved by connoisseurs of home, forgotten times and continuity of generations. After all, everything in the interior of Provence speaks of peace and reminds of a small house in the village, in which furniture is passed down from generation to generation.
For guests entering the hall decorated in this style, time will slow down and flow in a measured, quiet pace, and they will simply be subdued by this charming atmosphere of antiquity.