Fusion style - the ability to combine incongruous in the interior
The combination of exotic, extraordinary and classic, warmth and cold, softness and wildness, bohemian luxury and peasant simplicity, naturalness and artificiality and with all this a feeling of wholeness and harmony - that is the fusion style in the interior. This is the best solution for those who want to create in their home a unique, non-standard environment, allowing to show the originality and sophistication of the taste of the person living in it.
Fusion is translated from English as a fusion of different styles and design trends. Luxurious antique-made furniture made of natural wood and state-of-the-art glass and plastic, antiques and the latest high-tech equipment, very expensive items and cheap but cute knick-knacks can be harmoniously placed in one apartment or room.
Photo: photowall-paper in an interior of a fusion style bedroom
Subtleties of style in decoration, selection of colors and materials
Lighting and furniture
Fabrics and accessories
Advantages and risks of fusion-style room design
Deciding to design the interior in this style, you will be able to:
make a modern and fashionable design, going out of their financial capabilities;
choose things that you like, without fear that they will not fit into the interior;
buy new things (from exotic to strict classics) and successfully side by side with old mother's or grandmother's ones;
decorate things in different shapes, properties, colors and materials, plants;
use bright, contrasting colors, while maintaining the harmony of colors;
Do not limit the flight of your imagination.
An inexperienced person, arranging the interior in fusion style, risks overdoing it. Therefore, you should first think carefully about what the result should be at the output.
Tip: if there is no full confidence in the impeccability of your taste, it is better to contact the designer, so as not to get clutter and confusion.
Photo: decorating the dining room with fresh flowers
Photo: a combination of classic and industrial styles
Subtleties of style in decoration, selection of colors and materials
Although the decoration uses different materials, natural wood, stone, together with glass, synthetic fabrics, bright colors along with neutral ones, all this should be combined with each other, flow from one to another.
The basis of the color palette should be a white or neutral background so that the room does not look aggressive. For accents, use red, blue, black, gold, purple, green tones, combining them together.
Tip: so that the room seemed spacious, it is better to do it in bright colors and not to overwhelm much with accessories and furniture.
The walls can be zoned by painting them in different colors or laying a part of the wall with stone, glueing with wallpaper, tiling with tiles, making textured plaster, imitating brick.
Materials should be pleasant to the touch, so that they want to touch.
Photo: a combination of walls with various materials in one room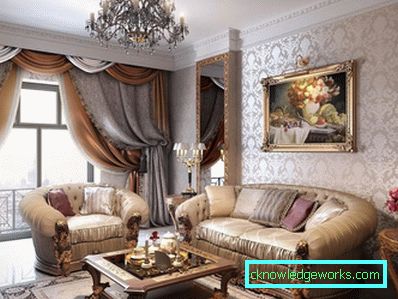 Lighting and furniture
Lighting, consisting of lamps of various shapes and types, allows you to put accents, highlight zones. Including everything together or individual lamps, you get the opportunity to change the atmosphere in the room from business to romantic. Therefore, spot lighting is indispensable, as well as the use of table lamps, floor lamps, wall lamps, ceiling lamps, candles.
Furniture is more often used in uneven-aged, opposite styles, but combined in form, color, size or decor.
Tip: if the walls are brightly finished, then minimalism and simplicity in furniture are better. And antique, unusual furniture looks better in a room decorated in neutral colors.
Photo: spotlight shelves
Fabrics and accessories
The interior in fusion style involves an abundance of multi-colored fabrics: upholstery, floor lamps, pillows, poufs, tablecloths. Natural fabrics are used - velvet, silk, satin, and synthetic, sometimes leather and suede.
You can set and combine anything. Exotic souvenirs and family photos, dishes from clay, glass, metal, collectible exhibits, handicrafts, animal skins. The main thing is not to overdo it and emphasize the chosen theme in the style.
Today, fusion style is the most sought after in interior design. This is explained by the fact that among so many design trends, interesting and beautiful things, it becomes increasingly difficult to choose. I want to choose what the soul most of all lies in and create a new unique design.