Loft or New York style is by far one of the most famous styles used to create modern designs for most country houses and apartments.
Loft - is primarily the creation of a room in the form of a certain room, such as a warehouse or attic.
In this room in this style looks quite comfortable and does not feel the lack of a homely atmosphere.
In many interiors, a loft-style room resembles an empty workshop of a plant for which it was decided not to carry out repair work.
As a rule, the walls in the loft-style rooms have a slightly peeling plaster, and you can easily see beams on the ceiling. All this as a whole creates a small effect of factory neglect.
How does the design of New York?
Towards the middle of the twentieth century, various premises of the former factory and warehouses began to be gradually rebuilt into houses suitable for workers.
In today's time, a similar idea in creating interiors came up with many designers. As in those years, now in the interior of a loft one cannot speak of either luxury or the elements of wealth.
Almost never walls are painted, and they are not covered with wallpaper, ceilings look slightly destroyed, and loft curtains also have their own characteristics.
A couple of years ago, quite unexpectedly, this type of room became a real inspiration for designers from around the world in creating comfortable apartments, which very quickly gained popularity, and not only among young people.
You can see the photo of curtains in the loft style and this will allow you to understand that to arrange an apartment today or a house in such an industrial style is rather expensive pleasure, which is clearly not available to everyone.
Despite the fact that outwardly such a room, as a rule, looks quite careless, creating a style will require the help of more than one specialist, since it will obviously need a lot of effort to make the interior really practical and functional from different points of view and for each family member depending on preference.
Loft-style rooms usually do not contain any small things. Here everything should be used as efficiently as possible, so without care in creating the interior - nowhere.
A selection of industrial style curtains
Curtains in the loft style are a kind of innovation for modern designers, since in principle, no decoration was intended in principle for the windows of rooms in this style.
However, today, in order to make the room which essentially resembles a warehouse as comfortable as possible, a huge number of various decorative elements are used.
Types of curtains
Since the loft implies above all a lot of different lighting, a large space, then the loft interior curtains have their own characteristics.
As a rule, the windows in such rooms are always quite high, and therefore it is necessary to take into account this point when making out. What kind of curtains can you use in a loft style kitchen?
The combined curtains: a photo of two-color design of modern curtains

Green curtains - options for a calm and cozy design (88 photos)

Curtains in the bedroom - the most stylish design options (110 photos)
Various types of roller blinds;
Curtains in the form of narrow canvases made of thick and at the same time somewhat transparent fabric;
Curtains on metal rings. At the same time, they should be free from any patterns, bows, or, for example, ruffles, peculiar exclusively to the classical and romantic styles;
Screens, which are called "Roman"
Nuances of curtain design for loft style
It's no secret that the design of loft-style curtains in any case should meet a number of requirements, without which the interior will not have a complete look.
First of all, these are the next moments - in the curtains of modern loft curtains there should be absolutely no coquetry, such as fringes or lush folds;
Since the original design did not, in principle, provide for curtains, it is necessary to take into account this moment and try to make them almost imperceptible in the overall interior composition, that is, it is best to make a choice in favor of such a style that would allow the maximum amount of light get into the room;
Simplicity along with conciseness - these are the two main whales that you should pay attention to when selecting curtains. The more clear forms there are, the better.
Photo loft style curtains
Curtains on the balcony - what to choose? Review of popular new products in 2017 +100 photos!

Turquoise curtains - how to choose and combine. 90 photos of design!

Chocolate curtains - 55 photos of an unusual embodiment in the interior!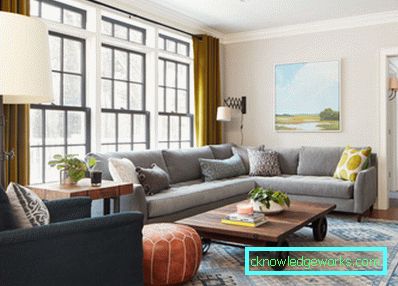 How to make curtains in the interior? Useful recommendations +80 photos!

Classic curtains in the interior - an elegant and cozy design (105 photos)

Fashionable curtains - a stylish and modern design (65 photos)