The hall (or living room) is undoubtedly one of the most important spaces in your home. And it should look appropriate - elegant and cozy. An important detail of the appearance of the living room are curtains. So, you should be familiar with the design of curtains for the hall, carefully considering the great variety of their varieties.
Types of curtains in the hall
1. Curtains with lambrequins. Represent a horizontal decorative drapery, which is mounted on top of the curtains. This is a very expressive element of the decor, but does not carry the functional load in itself.
2. Curtains on grommets, i.e. on a special kind of hinges or sleeves that are attached to the cloth through the holes in the fabric, so that these rings are strung on the barbell.
Even more new curtains look at this site https://masterinterera.ru/shtory/
3. Short curtains. That is, curtains that do not reach the floor, just below the window sill. Very popular in recent times. Light colors are suitable for living quarters. Gray and brown tones will find their application in the working room.
Choosing the style of curtains for the hall
Curtains are one of the most important accessories of your home. Choosing which style should be curtains, should proceed from the general interior of the living room. And also it is worth remembering a couple of simple rules:
1) heavy and thick curtains are best combined with light tulle;
2) the color composition of the curtains should be combined with the color scheme of the room.
Now consider the most popular styles of curtains.
Classic style
Speaking of classic curtains, it means, as the use of straight cut, and canvases with soft folds. In the open state, the curtains are tied with bows or laces, the same shade with curtains. Often complemented by lambrequins and tulle.
Modern style
This style does not like pretentiously bright shades and too dense fabrics, but allows easy carelessness. Such curtains are straight and sliding, and even lifting. To it can be attributed, and exotic types of curtains. Folk motifs are not forbidden here, of course, if the rest of the interior corresponds to this.
Art Nouveau style
Only light fabrics are peculiar to this style, and canvases are often asymmetrical. Curved lines, geometric figures, mythical animals, or a strange plant pattern can act as a pattern. May make a smooth transition from one pattern to another.
Minimalist style
This style is intended to emphasize the freedom reigning in the room. Such curtains create gentle lighting. In minimalism, bright and motley colors are unacceptable, black-and-white, as well as ashen-milky shades are welcomed.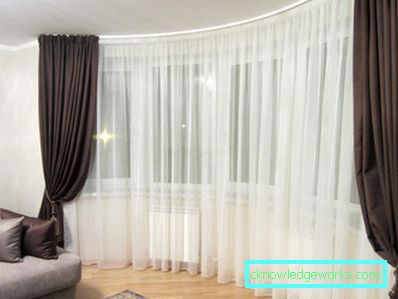 Provence style
The main characteristic features of the Provence style are grace and a certain clumsiness. Easy to use with uncomplicated decor. For such curtains apply only natural materials (chintz, cotton, linen).
Hi-tech style
Strict style, without any decor, clear lines, floral patterns are unacceptable. Geometric ornament is rarely found. Often it is just blinds and shutters. The curtains, if used, are only thick in a dark version.
Registration of the hall with a balcony
Balcony is available in almost any apartment, which is an undoubted convenience. However, when choosing the appearance and cut of curtains, there may be some questions, as these curtains should look both aesthetically pleasing and practical at the same time, because they often use the balcony when going to it daily. Therefore, the size of the curtains for the balcony group should be somewhat larger than usual; texture and folds should also be taken into account.
Ceiling curtains - 110 photos of ideas for a modern interior

Curtains 2017 - photos of the most fashionable new season

How to hang curtains - step by step instructions with photos and search
As for the curtains on the balcony itself, they should be thought out so that they do not contradict the overall design concept of the living room. It is better that the balcony curtains have the ability to fold and unfold as needed. With the solution of this problem will cope, for example, Roman or roller blinds. Perhaps the use of small curtains.
Registration of the hall with two windows
It is not uncommon that the owners of apartments or houses do not know how to approach the design of the living room, if it has two windows. The main rule, in this case, sounds very simple: two windows like twin brothers. To neglect this rule is strictly prohibited. It is necessary to ensure that the patterns on the curtains necessarily coincide.
Fashionable curtains in the hall, new items in 2017
But going to the choice of curtains for the hall, in addition to style preferences, it would not be bad to pay attention to fashion. Especially if you want your living room to look modern. However, wanting to keep up with the times, one should not trust transient extravagant trends. It is better to dwell on such options that will remain relevant over time. Consider the latest news curtains in the hall.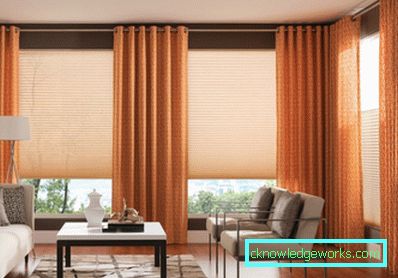 For example, for several years in a row, shades of lilac, lilac, and violet, both intensely bright and restraintly tender, have not ceased to be in demand. But do not keep clear of gray. For example, the high-tech style will look great and solid gray, and its combination with pearl shades will look great in the styles of provenance, modern and classic.
Especially in demand this year are new designs for curtains for the hall, such as combinations of stripes that can be made with floral patterns, monochromatic or with different brightness. In addition, lambrequins will be an excellent addition to curtains. If the design belongs to minimalism, then direct and strict lambrequins are best suited. And for classical and modern styles, drop-down svagas and ruffles are suitable.
Green curtains - how to make a calm and delicate interior (70 photos)

Turquoise curtains - 70 photo ideas in the interior

Curtains Provence - photo ideas of beautiful design and combinations in the interior
Photo curtains for the hall - the best new items in the interior
Blinds on plastic windows - 78 photo ideas in the interior

Curtain design - 150 photos of the best interior design ideas

Modern curtains for the kitchen - 135 photos of new products in the interior