It is impossible not to pay attention to the design of such an intimate area as a bedroom. It plays an important role in the life of every person; here he can calmly dream or meditate, not strain himself and just take a break from the hustle and bustle. An important detail of the bedroom interior are curtains, we offer readers to see photos of the best new products of 2016.
The easiest option is the arrangement of the bedroom, wallpaper-pasted room, with two beds and tulle on the window already fed up. I would like to see some kind of idea, a design chip, so that, having entered the room, you yourself would not be bored and not ashamed to invite a guest. So how do you choose curtains in the bedroom?
After the bed, the main focus of the bedroom is the window, because it is impossible to imagine a house without daylight lighting. Bursting into the room in the morning, the light fills it with comfort and warmth. This is especially true of the bedroom, where you definitely need beautiful curtains.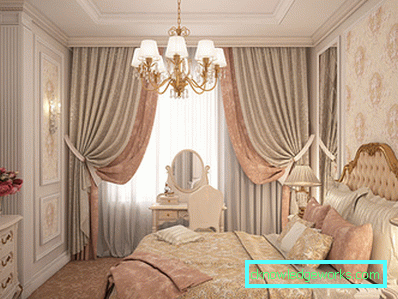 Try to harmoniously select all the elements of interior design, so that every detail fits into the overall style, it is especially important not to make a mistake with the choice of curtains in order to create a complete look in the bedroom. With the help of a properly designed window opening with exquisite curtains, you can even mask the ugly view from the window. In the rooms on the south side with the help of curtains regulate the level of illumination.
The main recommendations for choosing a color palette:
Follow the harmonious combination of colors of all the elements of decor in the interior of the bedroom. Choosing red curtains for a nautical style would be completely inappropriate, as well as gold satin curtains in a small high-tech room. But the shades of coffee in a classic beige interior design can very well fit into the overall palette. It is not necessary to achieve complete similarity, it is enough just to select similar patterns and similar shades.
Accent color spot can perfectly complement the interior. But the accent spots in the bedroom should be at least three, for example, the curtains will be combined with napkins on the table and the same color of the bedspread on the bed.
In a bright interior design, you can very nicely combine contrasting shades, they are also called complementary, for example:
purple and yellow;
blue and orange;
red and green.
To do this, you need a certain skill to skillfully combine very juicy colors, but the result will be impressive. These colors reinforce each other, and it is very easy to find them - they are located directly opposite each other in the color wheel.
These colors like to use in interior designs in South Asia. Not everyone will appreciate the contrasting combination of bright colors, because in a room with such a rich design, it can be difficult for some to fall asleep, complementary colors can tire quickly.
Light colors are classics of bedrooms, white and light curtains visually expand the space. It is also worth noting that it is preferable that the length of the curtains be maximum, except for some styles (country, minimalism, Provence).
For small bedrooms, bright, with large patterns or too dark and thick curtains do not fit, they will visually take up space. Stick to light, pastel shades, light fabrics and small patterns to expand the modest space.
If the windows in the bedroom overlook one side, then in the northern part preference is given to warm colors so that natural light is not cold, otherwise you will feel cold and uncomfortable here.
Textiles in one room should also be skillfully combined so that there is no vinaigrette from completely different fabrics. The texture and density of textiles of all elements of furniture and decor should be close to each other.
How to choose material for curtains in the bedroom
When choosing curtains in the bedroom, an important role is played by the material from which they are sewn. As you know, in the bedroom we spend a third of life, which means that the curtains should not only fulfill their decorative function, but also be practical, safe and pleasant to use. The practicality of the material implies its ability to influence natural daylight, protect against street dirt and insects, as well as ease of care. So, what kind of fabric does the modern textile industry offer for curtains? Of course, natural fabrics are favorites in the bedrooms:
Silk does its work when you need to achieve the effect of the most rich and luxurious bedroom decor. He is not very capricious in the care, but he is afraid of washing, but he does not attract dust at all and for cleaning it is enough just to vacuum it. Like any natural fabric, it burns out very quickly in the sun, so it is preferable to mix such fabrics with any artificial ones to increase their service life.
Cotton is easy to clean, easy to wash, does not fade, but is also afraid of direct sunlight. He is very fond of quality and environmental friendliness, as well as a huge number of options for colors and textures. In the mixed version with polyester yarns, cotton fabrics will last longer.
Flax is very pleasant to the touch, natural, does not collect static electricity and repels dust. It can be washed at low temperatures, as It is prone to shrinkage. For the hot season, it is ideal, creating a cool atmosphere in the bedroom.
Wool does not require special care, very dense, beautiful fabric. It is afraid of shrinkage during washing, it is impossible to wring out and does not like direct sunlight.
Synthetics are also often used for interior design, due to the large selection of different textures and colors, practicality and increased durability, which is also important for economy. Of these, in the manufacture of curtains are popular:
Light viscose, breathes well, can be washed, but ironed carefully, does not fade in the sun, and retains its original appearance for a very long time.
Velvet is luxurious, pleasant to the touch, wonderfully fit into the design of a classic interior. But it strongly attracts dust, therefore it requires constant washing.
The atlas is a very beautiful, dense, shiny material with a pearl shimmer, resembling silk, only heavier. He, like silk, does not collect dust, but because of the artificial fibers in its composition is very electrified. Washing is not afraid, you need to iron at low temperatures and from the inside.
Jacquard fabrics are most often artificial with the addition of natural fibers. So they will last longer, do not burn out in the sun and will retain their original appearance longer. This material is distinguished by a particularly elegant interlacing of threads. Dense, with exquisite relief patterns, shimmering in the light, he first appeared in France.
Taffeta can also be different, artificial and natural, as well as mixed, it can be different in density. It is easily draped, it looks very interesting in different lighting, thanks to its iridescent luster, changes shades depending on the lighting.
Tulle is familiar to everyone who remembers life in the Soviet Union, when it was difficult to get curtains from unusual materials, so she was in almost every home. It looks like a thin mesh, is inexpensive, and therefore looks very simple.
How to choose the color scheme for the design of curtains in the bedroom
Each new day begins in the same way: we open our eyes and the first thing we see often turns out to be the bedroom window. If you don't like how the windows are curtained, then the day will start with unpleasant, annoying emotions, which is extremely important not to allow. The choice of color palette is strictly individual, because each room differs from another in its degree of illumination, decorative elements and furniture facades. But the main thing is that the color palette of every detail of the interior should bring you pleasant emotions and lift your spirits. Look carefully at a few pictures with color options for curtains in the bedroom.
Types of curtains for the bedroom
Different types of curtain design fit certain interior styles.
Classic combines translucent tulle and curtains. Moreover, portieres often performs a decorative function and loosely cover the light. The length should traditionally be to the floor. Especially luxurious will look the composition of the classic curtains in the bedroom with two windows.
Elegant curtains with various draperies: side, bottom or upper folds and scallops, lambrequins, frill, braid. The curtains look very nice on the lining; they are especially in harmony with the classic English interior design and protect the fabric from burning out. All sorts of ribbons and holders look elegant.
Curtains - this is the easiest way to design a window, it will look good in the style of minimalism, high-tech and country. They tend to go in conjunction with a more substantial barrier to the sun, like shutters or blinds. There is another type of curtains that perform a purely decorative function - rope curtains of threads and beads.
Roman or as they are called blinds fit perfectly into your small bedroom. With their design, they resemble blinds, but have a much greater variety of colors and textures. They can hang in a flat canvas or clash with ribbons, they are more often of short length. Roller blinds are easily transformed, economical in price and suitable for any window openings. Perhaps the best they look in modern and ethnic styles.
The Italian curtains practically do not differ externally from usual portieres, except for the design because of which they do not move at all on the cornice. To increase the brightness of daylight, you can filter them with the help of side ropes or ribbons.
Luxury French curtains are simply created for a spacious classic bedroom. Their distinctive feature is a huge variety of elegant draperies, so they will be a wonderful decoration of any palace.
Japanese curtains in the form of long thin strips of fabric look very useful in high-tech style. They can completely release the opening for the light or close it, overlapping each other.
The Austrian curtains, like the Roman ones, belong to the lifting curtains, but unlike them, the Austrian curtains have a bottom decorated in the form of festoons, rising, they form wavy folds. They will organically look even in the classical style, even in the interior of the Provence and Chebbi-chic.
The best solution when choosing curtains in the bedroom is to view photos of finished curtains in various interiors. In any salon for sewing curtains, there are catalogs that you will be happy to offer to look at so that you can choose the most suitable version of curtains for you. Only by looking at the photos, you can understand what the final result will look like and whether it will fit into your bedroom.