How to make a children's room designed for two children?
The design of a nursery for two is not an easy task, which is especially complicated if it is necessary to arrange a room for children of different sexes. Children's room for two children must meet the needs of each of the owners, so when it is arranged it is necessary to apply maximum strength and imagination.
Choice of furniture
Furniture arrangement
Surface finish
Options for finishing the main surfaces of the room for children may be different, it all depends on their age and gender. Children for two children can be framed in a characteristic color, for example, blue for boys and pink for girls. Everything is much more complicated if it is necessary to create an organic space that meets the requirements of a boy and a girl or teenagers who may not agree with the traditional choice of color.
If the area is small and it is very difficult to divide it into equivalent zones, then you can use the traditional light or pastel finish for the main surfaces. Individual space can be singled out with the traditional decoration of the main surfaces with the help of vinyl stickers or stickers; this division will be especially relevant when delimiting the personal space of adolescent children. Original ideas will allow you to choose the most appropriate option for decorating the main surfaces.
Photo: decorating walls with vinyl stickers
Photo: room for two children in classic style
Choice of furniture
The key position in the interior of the children's room for two will be occupied by beds, so their choice should be taken responsibly. Beds can be in the form of bunk structures, folding sofas and armchairs, or sliding modules. For the arrangement of a small room, roll-out modular structures that make it easy to transform a small room are best suited.
Bunk beds not only look favorably in a small room, but also help to save usable space. The layout of the bunk beds can be very diverse, by reading the basic options for the location of beds, you can choose the best location option that fits perfectly into your design.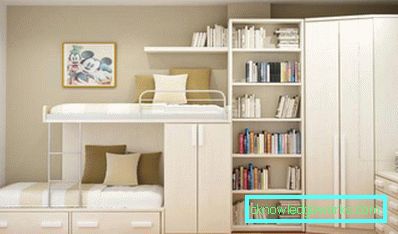 Tip: when choosing a bunk bed should take into account the fact that the height of the ceilings should be at least 2.6 m.
Furniture arrangement
Children's room for two children must be properly furnished. In the event that bunk beds can not be entered into a small space, you should refer to design ideas that will harmonize the interior of the nursery. There are several options for the location of two ordinary beds, even in a limited space. The simplest idea of ​​placing two beds is a parallel arrangement, which is considered optimal for square rooms.
If your child is elongated, then you should consider the idea of ​​placing the beds next to each other along the same wall. You can separate one bed from another by using the drawer, chest of drawers or cabinet. A good option is zoning using capital or decorative partitions. The organic separation of the two beds will provide an opportunity to organize a personal space for each baby, which is especially important when designing a personal space for teenagers.
Corner placement or head-to-head placement is also a great idea to increase the size of a small room.
Photo: Bed arrangement along the wall.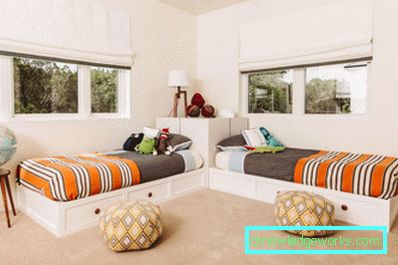 Photo: Corner Beds
As an alternative, you can arrange the beds in different corners, this arrangement is used if the children are very small or not very friendly with each other. The location of beds in different corners is perfect for heterosexual kids.
After reviewing the examples of harmonious design, you can create an original design for a nursery for two children, as closely as possible to their needs.