We make a children's room in the style of IKEA
A nursery for a child is not just a room, but a real separate world. Here he spends a lot of time: he plays, leads friends, sleeps, does his favorite hobby and does his homework. Therefore, the design of the children's room should be treated no less responsibly than, for example, the living room interior.
Children grow quickly, their worldview is changing, which means that tastes and needs. So, the interior design of the nursery should be multifunctional and transformable. After all, making repairs in a room every year is extremely troublesome and costly.
To finish the children's room, you must choose environmentally friendly, safe materials. However, it is important to consider their cost. It is unlikely that it will be justified to use valuable wood in children's rooms. Furniture should be as comfortable as possible, without sharp corners and be able to "grow up" with the child. On the Internet today it is easy to find photos of original and practical children's furniture.
Children's furniture
Children's furniture from the world famous company IKEA combines functionality and beauty, affordable prices and quality. IKEA manufactures furniture, textiles, toys and even dishes. The design of the children's room is greatly simplified if you immediately purchase a whole set of furniture in a particular style, choosing the option that corresponds to the child's age.
Good healthy sleep for a child is no less important than for an adult. In bed, the little man should be comfortable and calm, for this piece of furniture reliability is especially important. If several children share a room, a bunk bed would be a good choice. Some models can be lengthened, adjusting to the growth of the child, because IKEA is primarily a functionality.
The love of cleanliness and order is instilled since childhood. Therefore, it is so important to provide the interior of the children's room with a sufficient number of storage systems with a pleasant design, where the boy will put his cars, and the girls - dolls and plush friends. Different racks, individual shelves, small cabinets and dressers, baskets, as well as IKEA plastic or textile containers are suitable for this purpose. Well, if these containers can be moved around the room without any problems.
In addition to the usual adult furniture in the children's room, more non-standard items would be appropriate, for example, hanging seats or even a swing. Older kids will love the soft chairs. Many interesting ideas can be gleaned from photos of various children's interiors, including those made in the IKEA style.
Photo: bunk bed from IKEA
Photo: the original zoning of the children's room
Color palette and materials
Choosing a color scheme, you should not get hung up on common stereotypes. The interior of the children's room for a boy does not have to be done in blue or blue. Green, violet and even neutral tones will also work if the child is already large. As a rule, children's rooms for girls are houses for princesses, aged in shades of pink. However, stylish options can be created with the help of other colors: white, yellow, blue, light green.
Tip: Bright colorful design suitable for kids. Older boys and girls prefer calmer, pastel tones with spectacular accents.
The most popular materials for children's furniture - wood and plastic. It is their company uses IKEA. These materials are the lightest and bring warmth and comfort to the nursery. It is highly undesirable to use cold metal, brittle glass and mirrors. Little children can not only get hurt, but also be afraid of their own reflection.
Another point that you should pay attention to when creating a design - lighting. Better if it will be point. After all, the playroom should be brightly lit in the children's room, school-aged children need enough light in the place where they do their homework. Unusual and fashionable will look lights of individual elements of the LEDs. Sometimes children do not want to fall asleep or often wake up from nightmares. In this case, near the crib, you can put on a bedside table or hang a night light on the wall.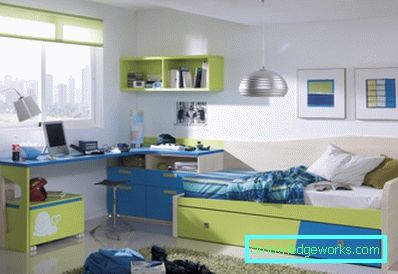 Photo: bedroom for boys, decorated in pastel colors.
Children's room designed in the style of IKEA - this is a bright interesting model with its unique personality. Since childhood, a child should be surrounded by stylish things in order to lay down conditions for the formation of good taste as early as possible. Before the final interior decoration, it will be useful to study the photos of various children's rooms.
We advise you to read: new children's room interiors 2016 (photos)