Features of use in the interior in black
Being engaged in arrangement of the housing, the majority of people avoid to use black color in an interior of rooms, considering it sad, gloomy and mourning. Recommendations of professional designers can help overcome such an undeserved attitude. Most successful projects can be viewed on the photo. Knowing his strengths and harmoniously combining with other colors, you can achieve a striking effect.
Interior decoration
Decorating various rooms
Features of decoration
Black color absorbs the entire gamut of the visible spectrum, has an incredible depth. It is very strong, its application should be done carefully, as it can not only enhance the positive visual effect, but also completely spoil it.
This is a strict, solemn, elegant color. It carries the features of aristocracy, sophistication and respectability, gives a sense of calm and tranquility.
Most colors blend beautifully with it. Bright flashy colors look great against its background, and its classic combination with white and gold looks royally gorgeous. Different pastel shades are in good harmony with it.
Photo: Royal looks great combination of black with white and gold
The spectacular work of black color is often built on the contrast with another, for example, with white. This combination is often found in a strict classical style. He is also a unifying for many different styles of interior, conflicting with each other in color.
Key points to consider when working with black:
it is a strong color, it should be used carefully;
it should not be too much;
It must be used in combination with other colors.
his work is based on contrast, or he serves as a background, highlighting or combining other objects.
Interior decoration
The most impressive black color in the interior looks on vertical surfaces. On the walls are usually stuck wallpaper or paint them.
Tip: It is better to use matte paint, and choose wallpaper with an obscure pattern. Against such a background, other interior items look advantageous, creating the effect of depth.
At the same time, it is not at all necessary to give black color to all the walls, it is enough with just one. A collection of photographs or paintings will look more expressive on such a wall, and the black background will recede into the background. An interesting effect is the combination of black and mirror walls, there is an illusion of endless space.
The floor of dark wood, especially covered with yacht varnish, always looks respectable. No less well looks and dark parquet floor. Such floors require careful maintenance, because each speck is visible on them.
It is believed that the black ceiling reduces the height of the room, and this is true. But if it is a glossy stretch ceiling in combination with a lot of spotlights, then the height of the room will seem twice as large.
Photo: Dark wood flooring
Photo: black ceiling with spotlights
Decorating various rooms
The main room where we receive guests and communicate with the home is the living room. It is enough to place one large black object in it, and it will collect all the attention of others around it.
Tip: for harmonious perception it is better if other dark elements of decor are shared with such objects.
The living room with black color perfectly combines objects with shades of gray, red and brown. It can be wooden furniture, its upholstery, paintings, carpets, curtains, various textile elements and other items.
In the kitchen, black creates a nice contrast with metal and white. Dark built-in appliances on a white background with a metal finish in gold or silver looks very stylish.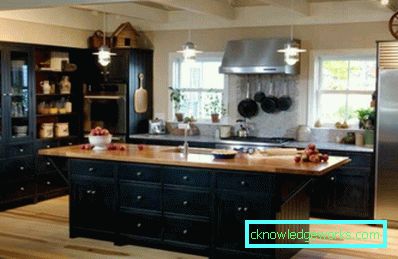 Photo: dark built-in appliances on a white background
In the bathroom and toilet, black glossy tiles are often used in combination with other various colors and shades, and black plumbing is installed. All this is perfectly complemented by all sorts of metal and glass accessories.
Photo: a combination of black and gold in the bathroom
In the bedroom, the combination of black and red has a certain sexuality. But black color should not prevail, it must be softened. For this you can use mirrors, glass elements, textiles, furniture, abstract paintings.
Photo: mirror wall will create the illusion of endless space
Photo: decorating the wall with photos
In the nursery, black should be very limited.
Tip: You can arrange part of the wall in the form of a black board on which you can draw with chalk. Children will do it with pleasure, which may reveal their creative potential.
Opportunities to use black color in the interior there is a huge amount, and you should definitely try to do it. However, it must be remembered that he should not fill the entire space of the room. Only its combination with other colors can reveal all its advantages, give a unique and sophisticated look to the whole interior.