Making a bedroom in the style of minimalism involves a minimum of decorative elements and a maximum of free space. This is a sleek, elegant design with strict lines, filled with light and conducive to proper rest.
Basics of minimalism
The basic principles of minimalism style are:
minimum furniture and accessories
use of natural materials
neutral colors - gray, black, white
simple shapes, clear lines
maximum functional layout
The most popular ethnic trend of minimalism is Japanese style. It is characterized by the use in the interior of natural materials such as bamboo, wood, reed. For the zoning of space often used wooden partitions, screens. The color palette is delicate, with mostly pastel, natural shades. The most characteristic are beige, brown, white and light pink. The interior of the bedroom in the style of minimalism should be functional and spacious, as in the photo.
Wall decoration and colors
To decorate the walls in the bedroom in the style of minimalism, you can use wallpaper, embossed plaster, paint. Wallpaper is better to choose monophonic or with a strict geometric pattern. It is possible to dilute the neutral interior, to give it individuality and originality by arranging the wall behind the head of the bed or its part in a contrasting color. The decoration of the accent wall with wooden slats or materials that mimic brick or natural stone is very popular. Wood is often used in the style of minimalism. The natural texture and color in the bedroom create an atmosphere of comfort, contribute to proper rest and allow you to gain strength.
For the design of the accent wall, you can also use wallpaper, the main tone of which can be in harmony or contrast with the color of the background walls.
Design bedroom minimalist style involves the use of no more than three colors. The most commonly used are white and black, as well as various shades of brown or gray. It is recommended to use white as the main tone, since any shades are easily combined with it. The contrast of white and black favorably emphasizes strict geometrical forms in the interior, creates a stylish, all-time relevant design. The traditional is a combination of white with beige or brown, as in the photo.
Ceiling
For the design of the bedroom ceiling in the style of minimalism, you can use various options:
dropped ceilings
alignment and staining
stretch ceiling
Stretch ceilings are the most popular, as they allow you to hide any irregularities, create a perfectly smooth coating with the possibility of embedding spotlights.
Suspended structures, for example, using drywall are also often used. With the help of drywall, you can level the surface or create a complex, multi-level ceiling. For a minimalist style bedroom, in this case it is better to choose designs of a simple form.
Furniture
The design of minimalist bedroom furniture should be as concise and functional as possible. Numerous decorative details and decorations should be left for other styles. You should not overload the bedroom interior with different pieces of furniture. For the style of minimalism is limited to the most necessary, such as:
bed
cupboard
bedside tables
The centerpiece of any bedroom is the bed. For minimalism, low beds, for example, Japanese-style, as well as catwalk beds, as in the photo, are well suited. The headboard should be of simple shape with a minimum amount of detail. In small bedrooms to save space, it is advisable to use a bed with drawers located under the bed. They can store all the necessary things.
To store bed linen and clothes, you can use a wardrobe or a built-in wardrobe. Facades should be smooth with discreet or hidden fittings. The most profitable furniture color is white. It goes well with all shades, makes the interior light and is perfect for rooms with a small area. The facades of cabinets can be mirrored, glossy or matte. Mirrors and gloss are most preferable in a bedroom of the small sizes. No less impressive, they will look in a spacious room.
For the bedroom, made in the style of Japanese minimalism, you can choose wardrobes with frosted glass doors, decorated with concise drawings of Japanese themes.
When choosing bedside tables, preference should be given to the simplest models. Instead of standard thumbs, you can use small shelves or mounted models, which will create a feeling of lightness.
In the spacious bedroom in addition to basic furnishings, you can also put a chest of drawers and a dressing table. It is important to ensure that they do not overload the interior. In addition, all furniture should be kept in the same style and color.
Arranging a bedroom in the style of minimalism is very important not to clutter up the space. The room should be as spacious as possible, filled with air and light.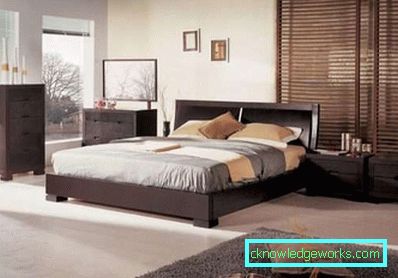 Textile
The bedroom design in the style of minimalism involves the use of simple, concise textiles without fringe, tassels or ruches. It is desirable to choose fabrics that are plain or with a strict geometric pattern. For window decoration you can use:
curtains
Roman curtains
blinds (vertical or pleated)
roller blinds
japanese panels
If you decide to decorate the window using curtains, choose plain curtains without draperies, pelmets, embroidery and other decorative details. The design of the curtains should be as simple as possible and be combined with the basic decor of the room. Traditionally, thick curtains are used in combination with tulle. This is a classic version of the window design, which, with proper selection of fabric, its color and texture will not contradict the principles of minimalism. Curtain rod can be ceiling or wall. It should also be simple, not eye-catching.
A good option for a bedroom in the style of minimalism - blinds. Horizontal blinds do not look very comfortable and are more suitable for the office, so it is better to give preference to vertical models. They are made of various materials, the most suitable for the bedroom are fabric or wood. In addition to vertical panels, you can use pleated blinds, which consist of a pleated canvas and a narrow cornice. Such blinds look elegant and simple, but at the same time they add coziness to austere design.
Japanese curtains are an excellent choice for a minimalist style bedroom, especially if it is decorated in accordance with Japanese traditions, as in the photo. This type of curtain is a relatively narrow cloth fabric, which are attached to the eaves and resemble panels rather than curtains. The necessary rigidity gives them a special frame, which stretch the fabric. Japanese panels are made mainly from natural materials such as cotton, linen or silk. The color palette is very diverse, which allows you to combine several panels of different colors or textures. The strict shape and laconic design of Japanese curtains are perfectly consistent with the principles of minimalism style.
The simple design of roller blinds makes them an excellent option for use in a minimalist bedroom. They look like a smooth canvas and well protected from light. Their color scheme can be almost any, but it is better to choose a shade that will be in the same color palette with the rest of the room's textiles.
Roman curtains of thick material with large folds fit well into the sleek design of the bedroom. Multiple colors allow you to choose curtains for any interior. To protect from light, you can choose blackout fabric curtains. It provides almost complete protection from daylight and guarantees maximum privacy.
Curtains made of coarse flax of natural color, as well as roller blinds made of bamboo, perfectly suit Japanese minimalism.
Bedspreads and pillows should be either plain or with a strict geometric pattern. By the same principle, a carpet should be selected, if it is expected to be present in the interior.
Accessories
The minimalism style does not accept the abundance of decorative accessories, so you can limit yourself to a picture in a strict frame with an abstract pattern. The Japanese-style bedroom interior can be decorated with statuettes or ceramic figures, as well as ikebana bouquets.
Lighting
To illuminate the bedroom style minimalism, you can use several types of lamps. Spotlights are most preferred if the ceilings are suspended or suspended. For multi-level ceilings, you can use LED strip, which gives a very soft light. Hidden lighting is widely used in minimalist interiors - it is used to illuminate niches, cabinets, and ceilings.
Suspended ceiling lamps, wall sconces and table lamps should be very laconic, with lamp shades of simple shapes, for example, square.
For the interior of the bedroom in Japanese minimalism, ceiling pendant lamps, as well as floor lamps with rice paper lampshades, are well suited, as in the photo.
In the bedroom of minimalism style it is very important to properly organize the lighting. Soft, diffused light should fill the room, create a feeling of spaciousness and lightness. It should also take care of the possibility of dimming to adjust it depending on the needs.
Despite the strict forms and minimum of decorative elements, the bedroom design in the style of minimalism can be very interesting and cozy, photos of various interiors will help to make sure of this.