To feel good all day long, good and healthy sleep is important. Full rest can only be on a quality mattress.
It will help your body to sit properly during sleep and provide comfort and convenience. Models and types now there are many.
From which it follows that you need to know how to choose the mattress correctly.
Types of mattresses
Mattresses are available with springs, as well as completely without them. All these products are subdivided into these two main types.
And to know how to choose a mattress for the bed, you should consider the main features and differences of these types.
Springless
They have a lower height than those of mattresses where there are no springs. However, their rigidity is greater. The filler can be natural or artificial.
Also, this type of mattress can have not only one, but several layers. The most qualitative materials in this category are latex-based.
Consist of natural material that allows air to circulate normally. Such mattresses are comfortable, retain their elasticity for a long time, and are resistant to external influences.
There are models of artificial latex, which also have good characteristics.
Their production is similar to the manufacture of foam, that is, using the method of foaming. These models have different levels of elasticity and degree of rigidity.
This allows you to choose the most suitable option for you with bedroom furniture.
Spring
Such a mattress consists of a spring unit and a layer that has various fillers. Springs can be located as independent elements or connected to a common system.
The dependent spring unit is considered a classic system, which is used in the manufacture of products mainly of economy class. Note! Art Deco Bedroom - 100 photos of stylish design ideas in the bedroom
In this kind of mattress, the springs are a single system, from which it turns out that the body presses on the entire surface completely.
This leads to the fact that you will not get the correct orthopedic effect.
When an independent unit using separate springs, which are located in special bags. They are pre-stitched together. There are different diameters, which indicates the possibility of location in a single mattress of a different number of pieces per square meter.
The standard value is 250 pieces. But the more their number will be, the better its elasticity. This will lead to a better fit to the body.
It is possible to place springs of different stiffness, which will only improve the orthopedic effect.
Upholstery and fillers
To understand which mattress to choose, you need to examine in detail all its components. The first is a flooring filter in the product.
Usually made of hard material. Its task is to protect the springs from damage. The most suitable are thermoformed felt filters.
This is followed by a layer that gives the product additional properties. It can make the mattress tougher or softer.
Among the bad fillers should be highlighted batting. He often rolls and has a low elasticity. Much better foam rubber as filler. But do not take cheap low-quality swore. It quickly subsides and crumbles.
As for the upholstery, it is most preferable to choose Jacquard. The fabric will last for a long time, has excellent properties, quite dense.
It can be completely natural and mixed with synthetics or consist entirely of it. Preferred mixed species.
Product stiffness
Asking the question which mattress is better to choose, you should definitely pay attention to its hardness or softness.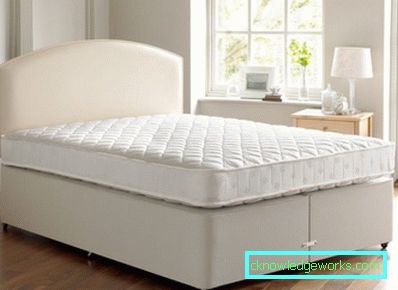 The stiffness of the mattress should be reduced along with the increasing age of the person. Children should purchase a hard mattress.
After the age of 18, mattresses with medium hardness are suitable. After 50 years you should stay on soft surfaces.
In addition to age, stiffness depends on weight. If you weigh less than 60 kg, stop on products that are medium hard or completely soft. If you weigh no more than 90 kg, a mattress with an average degree of rigidity is suitable for you. If you weight is more than 90 kg, then it is better to stop the choice on rigid models.
In order to clearly imagine what kind of mattress you need, you can study photos of mattresses and beds in the bedroom where they are presented from all angles.
Photo examples of mattresses in the bedroom