Milardo mixers: the subtleties of choice and operation
Most Popular Models
Selection Features
Tips for proper operation
Advantages and disadvantages
Materials used in the manufacture
Reviews
When there is a question about choosing a mixer, I want it to serve for a long time and was not very expensive. If you are interested in just such products, then the mixers of the Russian company Milardo will be an excellent option.
Most Popular Models
Milardo has a lot of different modern models for the bathroom.
The most popular ones are as follows.
Model Bering. This mixer has different types: with a short spout or with a long one. You can find one that you like and fit for a particular case. The coating of this model is made of brass. Aerator is removable, made of plastic. Such a model will easily fit not only into the interior of the bathroom, but also the kitchen.
Model Niagara. The material from which the mixer is made is high quality brass. The coating in this case uses a multilayer made of nickel and chromium. There are various types of models: with a rounded nose, short and long tap. The aerator in this model of ceramics, it is more durable and looks expensive.
Nelson and Torrens Models somewhat similar in their qualities and materials of manufacture. They also have different shapes and lengths of spouts, short and long, as well as rounded. Models will be suitable for different design decisions, perfectly fit into them. The production material, as in other models, is high-quality brass with a top coating of their chrome and nickel. It is resistant to abrasion and deterioration, well tolerated load and serves a fairly long period.
Bosfor model. It can be called the most beautiful of all this manufacturer. This type of mixer also has several types of different spouts. There are among the models and products with a rounded nose, with a shortened and elongated. The material used in the manufacture of this mixer is very high quality brass, a multi-layer coating made of nickel and chrome. Abrasion resistant. On the entire model range of the manufacturer Milardo 7 years warranty.
Bosfor
Bering
Nelson and Torrens
Niagara
Selection Features
If the bathroom is miniature, then you need to save every centimeter of space. In addition, you also need to think about the budget that will be spent on the purchase of the mixer.
Do not forget to follow a few simple rules for choosing a mixer.
Be sure to well consider the product that you plan to buy. The appearance of the product should not cause any suspicion.
It is necessary to pay attention to the height, width and length of the spout. It should be optimal for each case and bathroom.
When buying a mixer, it is necessary to take into account the size of its cross section. This has a direct impact on the amount of water transferred over a certain amount of time.
Tips for proper operation
Those tips that give plumbing are extremely simple:
do not load the mixer;
without the need not to turn it on or off all the time;
try to handle the device with extreme caution and care;
make timely minor repairs so that later the whole mixer does not have to be changed;
systematically check the status of the mixer, and if necessary repair.
If you follow these simple rules and advice, the mixer will last a long time, without failures and leaks.
Advantages and disadvantages
The entire range of domestic manufacturer Milardo has many advantages.
First of all, these are the technical characteristics of the mixers of this manufacturer:
materials used for the manufacture of mixers fully comply with GOST;
Products are covered with a special material that is made of nickel and chromium, this procedure helps to avoid damage to the coating;
have a long-term warranty (7 years);
fixed divertor;
all models of the company have a ceramic cartridge, which ensures durability;
Some of the models of this manufacturer may also be perfect not only for the bathroom, but also perfectly fit into any kitchen interior;
introduces a note of modernity to any design decision;
Mixers of this manufacturer are very multifunctional and practical;
Some models have the ability to switch and supply water flow in the right direction and the required temperature;
easy to operate and repair, if necessary;
if there are small children in the house, such a mixer will make the process of bathing the baby easier and easier;
it is possible to wash the head without immersing the whole body in the bathroom;
easily fills any container without human intervention;
the design of such models can withstand a large load without harm to the mixer.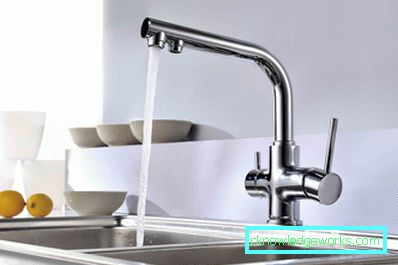 Materials used in the manufacture
The main thing that the Russian manufacturer is focusing on is what material the mixers are made of. The main material used for the manufacture of such products is stainless steel. It is chosen mainly for the reason that such material is the most reliable and durable.
Also for the production of different models are sometimes used materials such as brass or bronze. They are distinguished by the possibility of long product life.
The manufacturer also uses materials such as ceramics. But, it must be said that such products are distinguished not only by high cost, but also by increased fragility. So, with such models, you must be very careful. Often on such models there are cracks from physical exertion, but the material is very easy to clean and looks impressive and beautiful.
Reviews
Internet users who have ever met with some model of production of Milardo, note only its positive qualities. In particular, that the models of mixers are made very high quality, they are durable, long serve those who purchased them. Buyers also note that the mixers have a very attractive appearance. They are great for both the bathroom and the kitchen. Any faucet fits well into different design solutions without compromising the appearance of the room.
If you choose a domestic manufacturer Milardo, you can save a tidy sum, since such mixers are several times cheaper than imported counterparts, and also very high-quality and functional.
See the following video for reviews of Milardo mixers.