Kludi mixers: range review
Back in 1926, Kludi began its existence in Sauerland, which today is one of the most famous German brands involved in the manufacture of sanitary products. A trademark can safely consider the whole world to market its products, because Kludi products are widely popular and in demand.
The main principles of the company can be called customer orientation and maintaining high quality products.
Features
Features plumbing Kludi are unique design and high functionality. As a result, you get the irreplaceable and original items for the bathroom or kitchen.
The materials from which the mixers are made are plastic and metal. To increase the life of the product surface is additionally subjected to galvanizing. This method can also achieve a unique look.
There are such variants of designs of mixers, when one part of the watering can is made of plastic, and the second is made of metal. Due to the fact that plastic has a light weight, mixers become more convenient to use, but they can get a defect as a result of exposure to minor mechanical loads. There is also the possibility of a loss of coating of its appearance under the action of high humidity.
Varieties
Brand products can be divided into:
bidet mixers;
bath mixers;
shower faucets;
hand shower;
fittings.
Kludi mixers come in collections:
Q-Beo;
Joop;
A-QAs;
FIZZ;
Freshline;
Balance;
Ambienta;
Zenta;
Bozz and many others.
Each of the above collections has several models that have proven themselves in various conditions of use.
Fitz
Freshline
Balance
Ambienta
Bidet mixers have gained widespread popularity over the past 15 years. These products can be found both in the homes of ordinary people and in expensive hotels. Particularly popular models from the collection of Balance.
For example, the Kludi Balance 522160575 bidet faucet has a unique metallic color due to the additional application of a chrome layer. He also has in his device a special ceramic cartridge that is able to limit the access of hot water. Such models of mixers are manufactured using injection molding technology.
Bathroom faucets are divided by type of fastening. There are models that are fixed on the wall, and there are those that are located separately. In this case, the fixation takes place on the floor. Brass and plastic are used as the manufacturing material in the mixers. Brass is widely used due to its excellent physical properties, among which it is possible to highlight the increased strength and ability to reflect the negative effect of moisture when it hits its surface.
For all bath products, Kludi has been providing a warranty for 20 years if a hidden unit is used, for 10 years if it is fixed in the case, or for 5 years if there is an additional external coating and a ceramic cartridge is present in the device.
Kludi products are able to blend in harmoniously with virtually any interior style, but most of the existing models are made in the classic version.
Kludi shower faucets are available in a variety of faucets that can be used in the bathroom. Devices are made in various styles - from classic to minimalism. Perfectly proven models included in the collection of Ambienta, Zenta, Balance. Often, as a fixing element, the mixers have two nuts, which are closed using a special cap made of metal. It is usually chrome-plated brass. In many models, the device additionally includes a wall holder, a hand shower and a hose.
Reviews of consumers on the Internet say that perfectly proven mixers from the Bozz collection, having an external appearance of installation. These cranes are very easy to use and have good technical parameters. In its composition, the device has 2 s-shaped eccentric G1 / 2 x G ¾. You should also highlight the presence of a special check valve, which protects the device from the flow of water in the opposite direction. The mixers have a cartridge made of ceramic, with which the flow of fluid passing through the faucet is restricted.
All products are white in color and are perfect for a bathroom made in the style of "minimalism".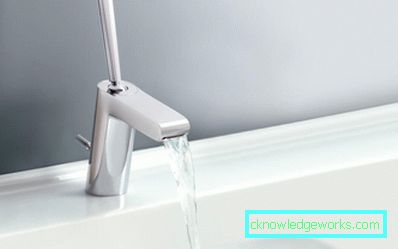 For information on how Kludi mixers are produced, see the following video.