Features of the choice of an elbow mixer
The elbow mixer is a popular type of sanitary equipment and is widely used in medical institutions and everyday life. The device was designed for surgical departments, but thanks to its ease of use and functionality, it became firmly established and took its rightful place in it.
Specifications
Elbow mixers are designed to mix and regulate hot and cold water coming from autonomous or centralized water supply systems. A distinctive feature of the device is the presence of an elongated handle with a thickened tip that serves as a traditional valve. Turning on and adjusting the water is done by raising and turning the lever, which can be done with a brush or elbow. Thanks to such a switching system, the contact of the palms and fingers of the hands with the surface of the device is completely eliminated, which is a necessary condition for preparing the surgeons for work and ensures that the hands are sterile before the operation. It is for this reason that the elbow mixer is often called surgical or hygienic.
Convenience and reliability of elbow mixers were quickly appreciated by consumers, thanks to which devices began to be used in residential and public buildings almost everywhere.
Structurally, the single-lever elbow mixer is a device consisting of a housing, a spout, a handle and a ceramic cartridge. The performance of the devices varies from 15 to 60 liters per minute, which is a good indicator and is considered quite sufficient for domestic needs. The maximum permissible coolant temperature is 80 degrees, and the maximum pressure inside the system should not exceed 1 MPa. The diameter of the pipe for connecting the main pipeline is 1/2, and the length of the elbow handle and the spout depends on the model and place of use of the device. Thanks to a wide variety of models and sizes, faucets can be installed in sinks with deep sinks, in kitchens with double sinks, in bathrooms and showers.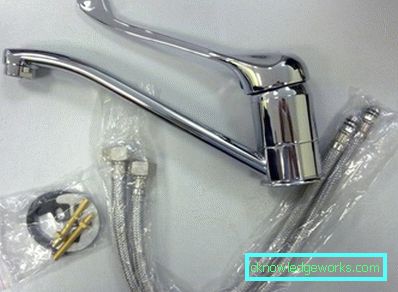 Advantages and disadvantages
High customer demand and popularity of elbow mixers due to a number of undeniable advantages of these devices:
High strength and durability of products are explained by the use of high-quality materials and simple construction. In the production of mixers used high-alloy steel and brass. Anti-vandal models have been developed for public buildings and medical institutions.
Thanks to the elbow system of inclusion, the risk of infection through the device of general use is practically absent.
A wide range of products with a wide variety of sizes, shapes and design greatly facilitates the selection of the device and allows you to purchase the product for any interior and style. In the modern market plumbing there are mixers made in the style of classic, country, techno and avant-garde.
The mixers are highly economical and, due to the ease of pressure control, are capable of ensuring low water consumption.
The devices are fully compatible with water supply networks, which allows you to install the mixer yourself.
The disadvantages of elbow devices include the high cost of some models and the difficulty of regulating the temperature of water with unstable system pressure or poor head. There is also some inconvenience of using elbow models in the shower, which is expressed in turning off the water from a lever that was accidentally touched during washing.
Scope of application
The area of ​​use of elbow mixers is wide enough. If earlier they were used in surgical units, operating rooms and dressing rooms, then today the single-arm device can be found everywhere. Devices are installed in clinics, hospitals, airports, train stations, schools and shopping centers. Due to the presence of models for the visually impaired, equipped with a detection indicator, devices are indispensable in nursing homes and institutions that specialize in working with people whose physical capabilities are limited.
In public places, mixers are often equipped with an anti-vandal system that prevents intentional damage to equipment and significantly prolongs its service life.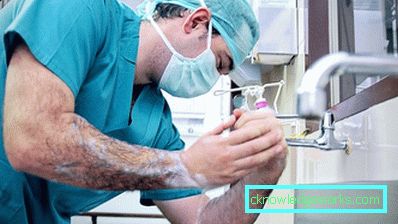 Varieties
The range of elbow mixers is quite diverse and represented by a number of popular designs:
Classic model, equipped with a handle-flywheel, different arc-shaped spout, the end of which is slightly curved and equipped with a mesh aerator. The model is well suited for kitchen sinks, large sinks and bathtubs. The only limitation to installing a classic model is a shower. This is due to the inconvenience of using this device due to the elongated handle.
Model with soft spout, equipped with a powerful aerator, designed for installation in kitchens, equipped with deep and large sinks. The spout of the device has a significant bend and non-deformable base. Only the upper and middle parts of the spout are bent, which is very convenient when washing large pots and vegetables.
Model with a watering can designed for installation in the sink. The device has a high cost, which is 20% higher than universal models, and can be equipped with both a full-sized watering can and a miniature element.
Bath model, equipped with a hygienic shower, specially designed for use in showers and bathrooms. The device has a wall design and is characterized by a short and curved spout, soft control and the presence of a watering can. In some models, the shower spout may be missing.
Swivel spout bath mixer It is characterized by a wide model range, lack of a watering can and shortened curved spout.
Faucets can be either wall mounted or mounted on a sink or sink. The life of most devices is at least 10 years.
Popular models
Manufacturers are a wide selection of elbow mixers, made in a wide variety of styles, ranging from art deco to techno. A striking example of interesting design solutions can serve as a model "Hangroht Talis 32035000", designed for washbasins, made in the style of minimalism and perfectly combined with both modern and classic style. The "Varion" model, designed for bathtubs and sinks and equipped with a swivel bend with an elegant lever, looks very organic.
"Hangroht Talis 32035000"
"Varion"
From the kitchen faucets the most popular is "Frap H54 F4554-2", made in chrome version and fixed directly to the sink. The model is equipped with an aerator, the connection is made using a flexible liner. Of the devices intended for the shower, the "Mamoli 3767 / AB59" model is considered to be in demand. The device is designed for wall mounting, characterized by a brass body, the presence of a watering can and the absence of a spout.
"Frap H54 F4554-2"
"Mamoli 3767 / AB59"
Thanks to the ease of use and ensuring a high level of hygiene, elbow mixers have become in demand not only in medical institutions, but also in everyday life. Instrument manufacturers immediately noticed a growing consumer demand for such equipment and quickly established a wide release of mixers for every taste and budget.
At the moment, elbow mixers have become an integral attribute of kitchens., bathrooms and public spaces, pleasing consumers with their reliability, aesthetic appearance and low price.
Further you watch the review of the elbow mixer Mixxen Fm7532240c-H9216.