Damixa mixer: pros and cons, tips on choosing a model
Features
Kinds
Material
Accessories
Which to choose?
Tips and tricks
Manufacturers and reviews
Successful examples and options
Based in Denmark, Damixa manufactures shower sets, faucets and various accessories. Products distributed in European countries, in Russia it is offered through official representatives. A serious approach to warranty, high level of performance and durability of the goods - all this can be attributed to the principles of the company Damixa.
Features
A feature of Damixa's mixers is the use of a ball mechanism - this is a water regulator located at the base. Also used indicator of hot and cold water, hydroceramic cartridge with high capacity, protective anti-burn coating CoolTech. The system used to quickly replace the product, called the X-Change, will make installation more pleasant and less time consuming. Each product is accompanied by instructions for installation and operation.
Kinds
Damixa mixers, depending on their installation location, can be divided into several groups.
For Bath. The mixer is a spout for water in the bath and provides a system for switching to a shower hose or standing shower. Such a mixer is usually attached to the wall.
For washbasin. Washbasin faucet is small, mounted on the sink.
For the kitchen sink. Unlike the washbasin version, it has a great height and a long spout, because the kitchen is supposed to wash dishes of various sizes. It also provides a swivel spout mechanism or an additional hose that can be pulled out of the spout when you need to pour water into a vase or wash the sink.
For the bidet. If square meters of the bathroom allow, for convenience, a bidet is installed, to which a special mixer is provided.
Material
The main material for the manufacture of mixers of this brand is brass. It gives finished products a special strength. There are also models of stainless steel. Decorative coatings can be bronze, chrome and granite.
Accessories
In case of breakage of the product, spare parts can be purchased from the official representative of the company and through the Internet. The company also proposes to purchase a ready-made repair kit, which includes new springs, gaskets, hex, fixtures for removing seals, cleaning seats, hermetic grease, plugs and instructions.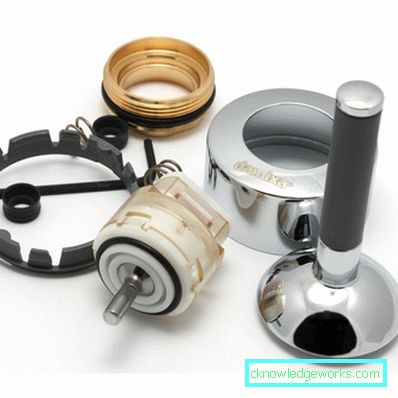 The warranty period for mixers - 5 years from the date of sale. If a hose, crane, gasket or seals fail, please note that they are guaranteed for 2 years. If the user carries out maintenance of the mixer in the official service center, then the warranty is extended to 10 years.
Which to choose?
Among the collections represented by the brand you can choose exactly mixer, which will fit any style of the room.
A-Pex. This collection includes faucets for the kitchen, sink and bath. The water inclusion levers are on the spout and, unlike the massive base, they look very fragile. Cast mixer, two-jaw, with aerator. Included is a foot valve.
Arc. The spout is located on the side of the base, has a swivel mechanism, the water inclusion handle is on top, there is a nozzle-aerator. Mixer nozzles and knobs are available in several colors. Option for the kitchen has a retractable shower. Models are protected with CoolTech anti-burn coating.
Bell. Elegant design, thickened base, curved spout, thin water control and control knobs. There are options with handles on the sides or on one side only. For a shower mixer there is a direct standing shower that is attached to the wall, switching to a hose with a watering can is provided.
Clover Green, Clover Easy. These two series are similar, the visual difference in the handles is that they are straight and flat in Green, and curved in Easy. Models with an aerator, there are both single and dvuhzavatnye options.
Elara. The small, but massive Elara mixers are single-gripped, all variants are chrome-colored. There is a ceramic and ball cartridge.
Free. Massive cast mixer for the sink, the handle is very small, to be less noticeable is located on the side.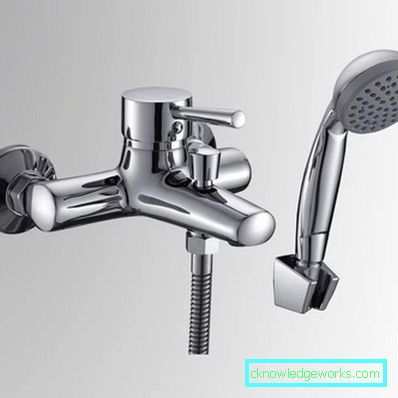 Slate Minimalism and comfort - the first thing that is associated with this collection. There are anti-burn system and Rub Clean technology, which makes it easy to get rid of dirt on the aerator.
Space. Classic round shapes, single gripping inclusion and water regulation. There is an option for a bidet, wall-mounted faucet, for a washbasin with a hygienic shower and for a bathtub - a two-tap with a thermostat.
Osier. This collection has faucets with rounded or rectangular spouts for both the kitchen and the washbasin with a shower. For the kitchen there is an option with a pull out hose. All models in this series have a thin single-lever handle on the side. An aerator is also provided, which significantly saves water consumption.
Profile. Single-jaw mixer of a strict form, swivel spout, unusual, upward pointing handle for switching and regulating water with a hydroceramic regulator. Body material - stainless steel.
Tradition Versions in retro-style, double-lever with cross-shaped valves, spout - swivel.
Venus. Double lever mixer, knobs are directed in different directions on both sides of the V-shaped base, which makes it their distinguishing feature. Brass body, stop valve with ceramic cartridge, complete with bottom valve.
Tips and tricks
When using Damixa mixers, one should not forget that a ball mechanism is installed in them, and since it is sensitive to chlorinated water, it is better to install a filter to clean it.
If the faucet falls (one of the most common problems during operation), then you need to tighten the hex inside the mixer housing. If this does not help, then contact the service center.
All Damixa spouts come complete with an aerator, which makes it possible to save on used water.
For the kitchen, the faucet should be selected with a swivel mechanism so that it is convenient to wash the sink.
On the manufacturer's website available video repair mixers and other technical information.
Manufacturers and reviews
According to reviews of users and professional plumbers, Damixa mixers are high-quality and durable, many are faced with the need to replace any part only after a few years. In compliance with the rules of operation and timely prevention with the help of a repair kit, mixers serve for a very long time. The Space and Arc series, based on customer feedback, are of high quality, and the mixers have been standing for more than 10 years without any complaints. Retro, Red Blue By, Venus are popular with consumers for their interesting designs. Many people like that there is an opportunity to purchase a mixer with a hygienic shower, such a model is presented in the Jupiter and Space series.
But there are a few other reviews, they are mainly related to warranty service. Due to the fact that the manufacturer is not located in Russia, the guarantee has to apply either to the store or to the service centers, which, in turn, can not always provide the replacement of the necessary spare parts. Often begin to creak ball mechanisms.
Some users compare Damixa products from Denmark with products from the Gerdamix brand from Russia. They are similar in style, but Danish models have higher quality and are more expensive.
Successful examples and options
If the toilet room is small, then a small washbasin and a faucet with a sanitary shower that can replace the bidet will be a good option. English retro design will emphasize the use of mixers from the Tradition or Retro collection, presented in several colors. For high-tech style will be an indispensable option from the Slate series. It is better to use a kitchen faucet with a retractable hose, this will facilitate the washing of dishes and make the spout more maneuverable. For convenience and economy, you can purchase several mixers in one set at a time, then the shower comes as a gift.
For how to install the Damixa mixer, see the following video.