Cascade mixers: features of the device and design options
Features: pros and cons
Characteristic design
Kinds
Materials
Design
Maintenance and Care Tips
Manufacturers and reviews
Modern housing design provides not only a comfortable layout of the rooms, but also the arrangement of their aesthetic fixtures. If earlier in the kitchen and in the bathroom for the "extraction" of water, ordinary valves were installed, now they have been replaced by stylish cascade mixers. They combine ergonomics, beauty and style, are easy to use and give the interior a complete look.
Features: pros and cons
Cascade taps are a unique piece of sanitary equipment, which is designed for arranging a bathroom, a washbasin and a kitchen. They can consist of both a single unit, and of individual parts, often equipped with three, four or five elements. For a bathroom, the product is produced in the form of a faucet, a shower, switches and a mixer, its distinguishing feature is a faucet having a flat shape.
Thanks to the modernized design, the water from the tap is supplied in a uniform stream, which, when used, does not make any noise or splash. This is due to the fact that in such models there is no aerator that saturates water with air, as a result of which it is supplied with a head at high speed.
In addition to the interesting appearance, such mixers are characterized by high throughput. Home "mini-waterfalls" allow you to fill the tanks in minutes, which is not the case with their traditional counterparts. Throughput indicators, as a rule, depend on the diameter of the outlet openings in the valve, therefore, in order to increase them, it is recommended to purchase products with the widest possible liner.
Waterfall mixers also have many virtues.
Convenient operation. The design of the product is designed in such a way that water can be supplied in one of the most convenient and suitable places, but the flow direction is fixed and does not change.
Original exterior design. Such models fit perfectly into the modern interior and beautifully complement it with hints of modernity.
Compact size. Since the construction is mounted on the wall, it turns out to effectively save space.
Quick installation. When installing the mixer there is no need to do hidden wiring, all wiring is hidden in a niche.
As for the shortcomings, there are also a lot of them.
High price. The simplest version of the cascade tap will cost much more than a conventional mixer from a well-known brand.
Some product models are difficult to install., because they require a supply to the floor or wall and are installed with the help of separate fasteners on the side.
Significant heat loss.
The inability to change to the mode of a narrow jet. Therefore, to fill small vessels with a neck is problematic.
Wide spout leads to intensive evaporation of hot water, which, in turn, can provoke increased humidity in the room and the formation of fungus.
Uneconomical water consumption.
Summing up, we can say that waterfall faucets are well suited for bathrooms. Kitchen sinks and sinks are best equipped with standard faucets, since the functionality is much more important than an aesthetic spectacle.
Characteristic design
From other types of taps, waterfalls are distinguished by a special spout design. It lacks a special aerator mechanism, and at the end there is a flat and wider shape, thanks to which a jet of water flows abundantly and evenly, resembling a natural waterfall. Another important characteristic is high throughput capacity, it is possible due to thick liner pipes that come with a crane in the configuration. As for the rest, such displaced are in many respects similar to the ordinary ones.
Most waterfall faucets come with a fixed structure without the possibility of turning the spout, so they should be installed separately for the bathroom and for the sink. Inside the device there are special cartridges with an enlarged section, they are responsible for the formation of a wide and powerful stream. The main design feature of the product is the fact that the installation of the control mechanism and the crane is carried out separately. Water supply to the plumbing is performed using flexible hoses or plastic pipes.
Kinds
Since an unusual design is peculiar to waterfall mixers, when buying them it is important to pay attention not only to the original look, but also to the form, the material from which they are made, the place of installation. Depending on the configuration and purpose, the faucets come in the form of a waterfall for the sink, and for acrylic baths they are additionally equipped with a hidden pipe and a comfortable shower head.
Since the device is installed separately, each node can be placed in the most appropriate place., for example, the mixer-cascade to put next to the spout, and the shower - in the opposite direction. A wall-mounted faucet with a cascade wide spout is also available, its watering can is installed on the wall, selecting a convenient height in advance. In this case, the water supply is hidden behind a decorative panel or trim.
The waterfall faucet is also divided into:
the usual single lever, in which the control takes place thanks to the joystick (single handle);
two-valve, where the flow of hot and cold water is separately regulated;
built-in touch, having the form of a more complex device with control for opening / closing water and an electronic device controlling the flow temperature.
Different taps and type of attachment. Each model requires not only proper installation, but also preparatory work. Faucets mounted on the wall, need to initially connect the water, their pipes are placed under the lining, and at the outlet of the carts put a special bar where the spout itself is attached. Wall-mounted views are considered universal, they are ideal for both shower and sink in the kitchen or bathroom.
Easy-to-install and recessed taps in the sink. Work on their installation is carried out quickly, since most washbasins are equipped with holes for installation of sanitary equipment.
If they are not provided for by the shell design, the sidebar can be carried out on the surface of a corner or tabletop. As for the fastening on the sides of the bath, then you should tinker with them, using diamond cutters to cut the required diameter in articles made of cast iron or metal.
The most rare are floor-standing faucets, which are often placed only in bathrooms of large sizes. Their design has the appearance of a vertical stand, masking the water supply. Such devices are also suitable for filling large pools, and put to the decorative lining of the floor covering.
Different cascading devices and design. They are available in various forms: in the form of an oval or round plate, a rectangle or a square, they have curved or straight plates. In addition, the waterfall can be both high and short. A crane with a led-backlight is in great demand, its jet is beautifully lit and can change color depending on the temperature of the water supply. Beautifully look in a modern interior and mixers with shelves that serve not only as a decor item, but also allow you to conveniently place various hygiene items.
Materials
A huge role in choosing a cascade crane is played by the material from which it is made. To date, manufacturers offer products made of bronze and brass. Such alloys, though heavy, are characterized by high quality and durability. At the same time, bronze mixers require additional protection, since during operation they can be covered with difficult greenish bloom. As for the brass models, they are resistant to corrosion processes, as they are covered on top with a protective film of chromium or nickel. In addition, brass plumbing looks stylish and modern, its cold shine exquisitely emphasizes the interior of the bathroom.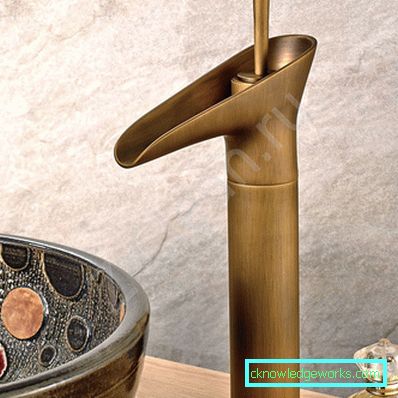 Particularly noteworthy is a glass mixer with a multi-color backlight. This design is expensive, since its production uses high-quality glass. Premium models, covered with gilding or decorated with precious stones and marble, are also found on the market. They allow you to fill the room with luxury, but to decorate the room with such a smart product, you will have to pay a considerable amount of money.
If the family budget is small, then you can do with abs-plastic taps, they are no less durable and will reliably serve in a rented apartment or cottage.
Design
Recently, when designing interiors in the kitchen and bathroom, most designers prefer faucets with a wide drain. Such waterfall models are significantly different from ordinary taps and due to their originality they allow to translate any ideas into reality. For example, a crane shelf will be an interesting solution for a bathroom. It will not give out anything while the water is turned off, but as soon as the lever is opened, a wide stream will appear from its edge. A mixer mounted in a vertical panel can also be a good example. Outwardly, it will be no different from the stove, but a small waterfall will appear from its narrow slot at any moment.
Many cascade mixers complement the built-in lamps, illuminating the water in different colors. Contemplating such beauty you can quickly calm down and relax. In addition to the decorative function, they are also responsible for safety: the intensity of water color indicates its temperature, the brighter it is, the hotter the flow. This innovation is especially useful for those families that have small children. As for the forms, they are different, ranging from square to round. Due to the unusual design, these taps fit perfectly into any modern style.
Maintenance and Care Tips
Mixer cascade not only pleases with its design, but also not whimsical in operation. The only thing, if its surface is made of ceramic or glass, it must be protected from mechanical shocks, since such materials are fragile and can quickly break or be chipped. In those models where the design has a backlight, its power source should be replaced in a timely manner. It is recommended to clean the waterfall tap with special detergents, which do not contain alkalis and acid. Aggressive components can damage the external coating of the product, causing it to deform.
Do not wash the mixer parts with abrasive products. If they rub the product, then its appearance will deteriorate forever. It is best to give preference to liquid detergent solutions, they will carefully clean both metal and ceramic or glass parts of the device. They first put on a rag or sponge, then gently wipe the structure.
In that case, when a leakage of a crane is noticed, then it cannot be fixed on its own, it is advisable to invite experienced specialists who will fix everything.
Manufacturers and reviews
At the moment, the plumbing market is represented by a huge selection of cascade mixers from different manufacturers. Since such products are expensive, you need to give preference to well-known brands that offer not only high quality, but also a guarantee of service for the first five years.
Positive feedback from customers received the following brands.
Rav Slezak. This company has been manufacturing products for more than 15 years and is pleasantly surprised by unusual models suitable for kitchen sinks, washbasins in the bathroom, and showers. It produces stainless steel and brass faucets, as well as sets them with ceramic switches. The warranty on the product is issued up to 6 years.
Vega. This Italian brand produces the highest throughput mixers. Due to the unique design and high pressure in the system, the bath of standard sizes can be filled in 5 minutes. To install the product requires a water pressure of at least 1 bar and the presence of five holes on the sides of the bath.
Grone. Branded products from the German manufacturer conquered the market thanks to the excellent quality and stylish design. Cranes are supplemented with special safety valves and built-in thermal sensors, for which a guarantee of up to 10 years is issued. Such models are great for bathing children, as thermal sensors block the flow of water when it is heated above +38 degrees.
Ledeme. Recently, many are afraid to purchase sanitary ware from China, as they consider it to be of poor quality. But the manufacturer Ledeme is an exception, because it produces a reliable and durable product. His budget models made of brass and glass are very popular with customers. They are complemented by flexible connections, single-lever controls and a ceramic cartridge. In addition, all products are sold at an affordable price and they are guaranteed up to 3 years.
Additionally, you can also mention such manufacturers as Hansa (Germany), Fiore (Italy), Alpen (Austria), Cisa (Turkey). Their models reliably serve a long time and are often decorated with hand-made drawings.
For the cascade mixer, see the following video.